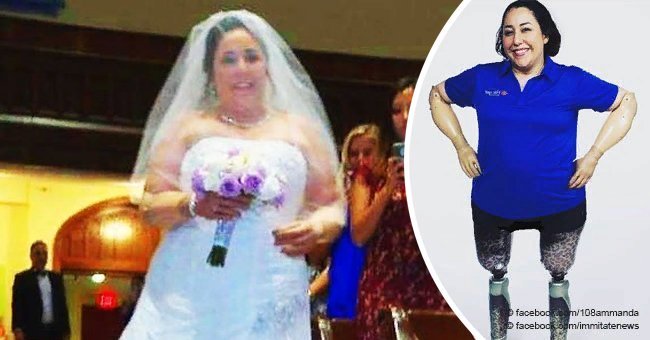 Bride surprises guests when she decides to walk down the aisle alone

Weddings are full of emotions and details. But, beyond that, it is the promise and oath that the bride and groom make to love each other for life and to be together in the face of any adversity, "in health and in sickness." This couple became a living proof of this.
For Amanda Flores and Frank Bordoy from North Potomac, Maryland, those vows could not be more accurate. Theirs a truly amazing story which proves that loves conquers all, as Liftable reported.
Their love was almost at first sight. They saw each other, flirted, talked and fell in love. Their relationship was going fast. A year and a half after being together, Amanda began to feel ill believing she was suffering from a common cold.
Unfortunately, it turned out to be much worse than any of them expected. As flu-like symptoms progressed, putting Flores into a coma because of a septic shock. Read more on our Twitter account @amomama_usa
She was in a coma for two months. When she woke up, Flores received the terrible news that her legs and arms had been amputated in an effort to save her life.
"The surgeon asked, 'Do you think she can handle it? Will she have the will to survive? Most people do not,' Flores's sister Isabel Llerena told The New York Times.
However, Llerena told the doctor that her sister could handle it. She put her faith in her sister's strong spirit and trusted that she was going to overcome this challenge, appreciating a second chance to live.
Llerena knew that it was going to be a long way to recovery for her sister, and she was going to face a very rare condition, but she was going to have lots of love and support to give her the strength she needed.
When Bordoy asked her to marry him, already proving that he would certainly be with her "in sickness and in health," Flores was more determined to learn how to walk and carry herself once again.
She spent months in physical therapy, to acquire the strength to use prosthetics. She was able to walk with artificial legs in time to walk down the aisle on the day of the wedding and even wore a long dress, proving how much of a fighter she is.
The day of the wedding, Flores not only walked to the altar by herself, but she danced with her husband to the beat of "All of Me" by John Legend.
Without a doubt, Flores is a great example to other people who have struggled with body image due to amputations or disabling conditions.
Flores shared her inspiring story on her Facebook account on June 9, hoping it would help other people in similar situations to hers, trying to encourage them to fight and keep moving forward.
"You must accept and come to peace that many people will look and stare. Release your beautiful genuine smile, because inside you know you've been given a gift they will likely never know, she wrote.
There have been other individuals that have embarked on the mission to change perceptions about people with severe disabilities to empower them to own their lives and defy what other's think they can and cannot do.
One of the most famous disability advocates that turned his life story into an example of determination and independence is Australian-born Nick Vujicic, who was born without arms and legs.
When Vujicic was only 19, he started giving motivational speeches that made her travel all over the world to spread his positive message to all kinds of people. He went on to become an author, musician, and actor, as well as a religious preacher.
Please fill in your e-mail so we can share with you our top stories!