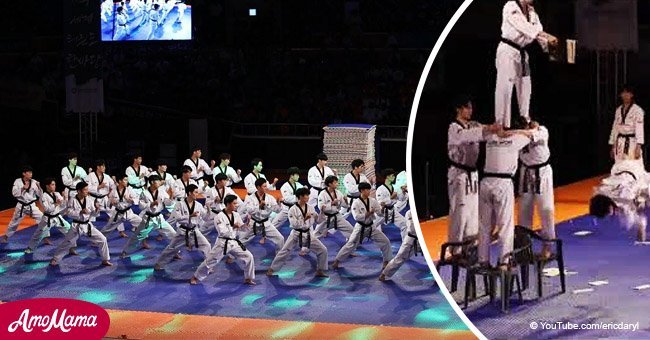 South Korean Taekwondo class demonstrates their unbelievable talent in skillfull routine
A mesmerizing display of talent was showcased at the opening of the World Taekwondo Hanmadang on July 28.
The annual event began in 1992 and runs on an international scale. This year, the Jeju World Taekwondo Hanmadang hosted 5,000 participants from 50 countries. The event ran from July 28-31.
The Kukkiwon Demonstration Team performed a highly impressive routine that ran for 20 minutes long.
A YouTube video uploaded by ericdaryl captured the full showcase of electrifying stunts. Later, a shortened version was uploaded to Facebook which highlighted the most brilliant parts.
The performance, which features both men and women, included a series of attacks, self-defense moves, and Taekwondo gymnastics.
It exuded the strength, synchronization, and precision of team members. And also reminded viewers just how entertaining the martial art is.
The Facebook video garnered over 21 million views, showing just how admirable the disciplined fighters are to have perfected their skills.
Nextshark reported how some viewers downplayed the video, claiming that the moves are actually "useless in combat." and simply fun to watch.
Some criticized the high flying kicks, calling them impractical unless they were "training to fight giants."
But many defended the demonstration, explaining how the level of skill is still undeniably apparent and "would cause damage."
In July 2018, Daily Mail reported when a martial arts student put her own skills to use when a mugger attempted to steal her phone. Lorrana Braga thought the gun was fake, and so she bravely fought off the assailant.
She used her skills in Morganti Jiu-Jitsu, a mix of Jiu-Jitsu, karate, and judo, to scare off her attacker. After she landed several kicks on the thief, he gave up his attempt and fled the scene.
Please fill in your e-mail so we can share with you our top stories!