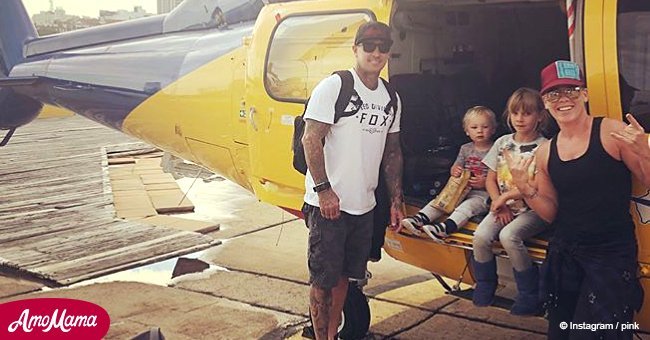 Pink`s husband vehemently defends controversial photo of their child in Instagram comments
Carey Hart hit back at Instagram commenters about the state of his son in a photo he posted to his account on Tuesday.
Singer Pink's 43-year-old husband was not having it when it came to a slew of parent-shaming comments from some Instagram users.
The photo shows poor Jameson covered in a red rash and sitting on a black chair in his diaper. The former motocross racer attempted to describe the situation in his caption:
"Wanna know how glamorous tour can be? Jameson has hand, foot, and mouth; and Willow has a 102 temp. Both kids laid up and mama @pink still has to push through and do shows."
Mayo Clini describes the disease as a "mild, contagious viral infection" common in young children. Symptoms include mouth sores and rash on the hands and feet. It is spread from person-to-person via saliva, coughing and sneezing.
The trouble started when Hart related a breakfast outing in the post:
"I had Jameson at breakfast yesterday and this vile woman at the table next to us kept staring at him with a [expletive] look on her face. I told her it was bed bugs. #NoRestForTheWicked #LifeInHotels."
One user admonished Hart, saying he should have ordered room service instead of going out in public. Hart asked him, "What's your point? You think I let my kids eat off of other peoples plates?"
Another user furthered the argument, explaining how "HFM is super contagious and it's not fair to knowingly expose others." She continued, "Maybe the post should have been more to the tune of '[expletive] up and took J out when I thought it was a rash but it's actually contagious HFM.' "
Others told Hart off for taking the toddler out wearing only a diaper. To which Hart sarcastically responded, "Yeah I took my kid to breakfast only wearing a diaper."
Eventually, Hart let the trolls know that "we can go in circles all day." He suggested they "go find a page that posts and talks about embarrassing kids being quarantined and treated like lepers!"
The couple's kids are not the only ones under the weather these days. In early August, Pink had to postpone some shows in Australia after contracting a gastric virus. When critics attacked her for resting on the beach, she explained she was simply following doctor's orders.
Pink's next appearance will be on Saturday, September 1st in Forsyth Barr Stadium, Dunedin, New Zealand. The tour ends on September 19th in Australia.
Please fill in your e-mail so we can share with you our top stories!