Little girl with 'huge heart' breaks own piggy bank to help classmate in need
 Kindergartner Sunshine Oelkf from Ishpeming, Michigan, emptied her piggy bank because she wanted her friend from class to have money to buy milk with the school lunch every day. 
The five-year-old's grandmother, Jackie Oelfke, spoke to CBS News sharing the details of the day when little Sunshine decided to give away her money that she had been collecting for a long time. 
When little Sunshine was counting the neatly lined up piles of pennies and nickles, Jackie thought her granddaughter was playing. But then Sunshine took some of the money and placed in a plastic bag.
Read more on our Twitter account @amomama_usa.
Jackie, now curious, asked her the little girl what was she planning to do with her precious money. 
Sunshine revealed that she was taking the money to her school to pay for her friend's milk because her friend did not have money to pay for it.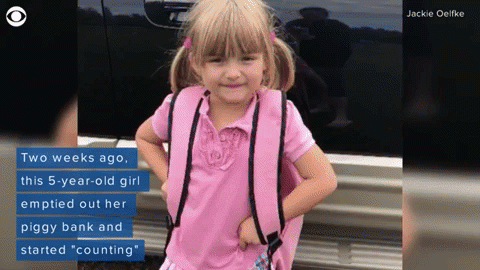 Jackie was moved to tears after she heard her granddaughter's selfless intention of helping her friend.
A little girl, barely five-years-old, did not demand a new toy or clothes for herself, but she was planning to use the money for a great cause. 
Jackie revealed that Sunshine's mother was a drug addict and had been in and out of prison and the little girl had not grown up in a conventional household. 
"She's going to have enough issues growing up with this. I've never told her she can't do something, and I didn't want to start now."
Jackie Oelfke, CBS News, October 16, 2017.
Jackie, along with Sunshine, met with her teacher and handed over the 30 dollars that the young student had saved. 
The grandmother posted an emotional video on her Facebook page after she had dropped off her granddaughter to school according to CBS News. In the video, she explained her granddaughter's mission of helping her classmates.
Jackie's teary-eyed post had gone viral, and she was surprised to see many people offering to donate, and so she started a GoFundMe page to help her granddaughter raise about 700 dollars so that the children in her class could drink milk for an entire semester. 
There was an overwhelming response to the page, and within a week its creation, more than $1000 had been raised, which could cover the cost of milk for the rest of the year. 
Jackie said that Sunshine does not feel as if she has done a great thing and insists that she was just trying to support her friends. 
"She doesn't understand the impact she's made. But now she knows she can do whatever she puts her mind to," Jackie said.