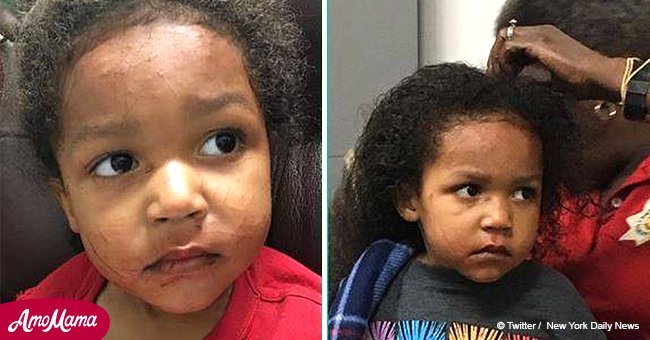 Toddler saved infant brother after car wreck kills their mother

Three-year-old boy Kylen Holliman is being hailed as a hero for helping to save his younger brother after their mother was killed in a car wreck.
As reported by Daily News, Kylen wriggled his way out of the car crash that took his mother's life recently. He then led the police back to the scene of the accident, where they rescued his one-year-old brother.
The Arkansas toddler and his brother had been in a car driven by their mother Lisa Holliman, 25, when it veered off the road and crashed into a ravine.
Kylen was spotted walking alone along a road in Camden, Arkansas. The authorities believed it was two days after the tragic car crash.
Follow us on our Twitter account @amomama_usa to learn more.
In the hopes someone would be able to identify Kylen, the police took a photo of him which they posted to the Ouachita County Sheriff's Office Facebook page.
When many people informed them that they hadn't heard from his mother in several days, police decided to return to the area where Kylen had been discovered.
There, they found his younger brother still in his car seat. Luckily, he was alive, and they immediately took him to a local children's hospital. Meanwhile, they found Holliman's body outside of the vehicle.
In an interview with KARK, Holliman's father James said: "I don't understand how a little bitty boy came out of that seat belt, climbed out (of) that car, got out of that ditch, and walked up there and looked for help, knowing that his mother wasn't responding to whatever he was doing at that time."
"And I know his brother was crying at that time… He's a hero. He got up, and if it wasn't for him, we wouldn't have known where none of them was at."
Speaking about Kylen and his brother's survival, Nathan Greeley, a Lieutenant with Ouachita's detective criminal investigation division, told local station KATV that it was a miracle.
"Today is anything but short of a miracle," he said. "The 3-year-old and 1-year-old being able to survive in the elements ... it's nothing short of a miracle, God's blessing, that these children were able to survive this accident."
According to Holliman's father, he only learned at the hospital that his daughter was about four weeks pregnant. He added that he hopes to gain custody of his two grandchildren.
"My family is taking it real hard right now," he said. "But we're happy that the grandkids are OK, we're happy that he was wise enough to know that something was wrong, to get up and go somewhere where somebody could see him to get help for his family."
Please fill in your e-mail so we can share with you our top stories!