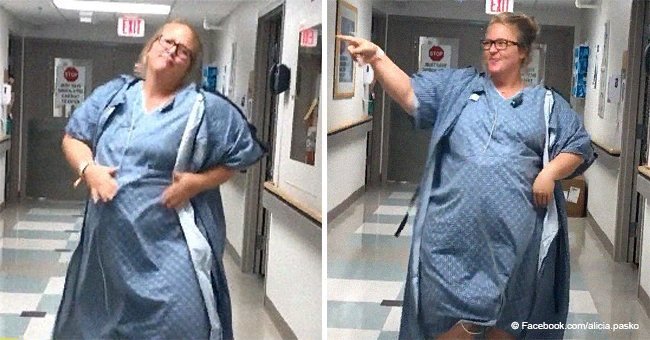 Woman in labor dances her heart out with hospital nurses in viral video

A woman scheduled to deliver her baby breaks into dance in the hospital's hallway. Her husband and the nurses joined the dance party to the delight of thousands who witnessed the viral video.
Expectant mom Alicia Exantus knew she was up for a long night of labor so she decided to break into dance before gearing up for childbirth.
In a viral video taken from the Manatee Memorial hospital where Exantus was scheduled to deliver her first child, the pregnant woman engaged in a dance number at the hospital's hallway and was even joined by her husband and the nurses stationed at the time.
Exantus bumped and grinded while rubbing her pregnant belly and even bent her knees so low in one of her dance moves. She was on her way to the delivery room and was looking forward to 30 hours of labor when she decided to strut in the hallway.
In the caption for her video she posted on Facebook., Exantus wrote,
"This was the beginning of what turned into a 30-hour labor. We were accompanied by the labor and delivery nurses at Manatee Memorial. I must say these women are truly superheroes and made this experience an incredible one."
The video has since gone viral earning over 65,000 views. Speaking to Inside Edition about her famous clip, Exantus said,
"I would definitely say it set the tone for my labor. We were so excited. We love to dance. We always love to have fun."
The Palmetto, Florida native was also overwhelmed by the positive response her video received.
"It's been super positive and super awesome. A lot of people have reached out like 'wow how cool is this for Bradenton. A lot of people have reached out about Manatee Memorial nurses and when I tell you these are superheroes without capes they are superheroes without capes, they are incredible."
Exantus gave birth to a baby girl she named Tatum after a lengthy labor. Interestingly, she delivered in her child in the same room where her mother delivered her. Moreover, her physician was the daughter of the doctor who delivered her.
Please fill in your e-mail so we can share with you our top stories!