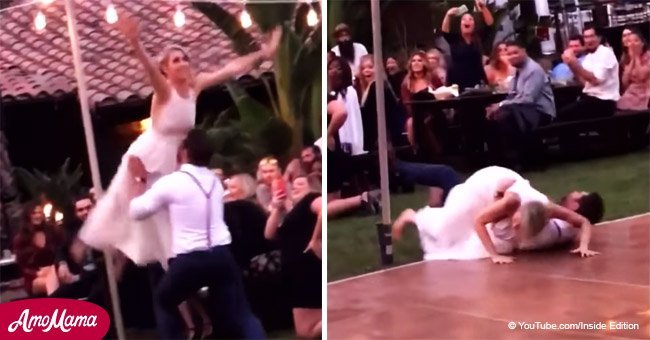 'Dirty Dancing' move goes hilariously wrong in epic wedding fail
A groomsman and a bridesmaid from California tried to recreate an iconic dance move from Dirty Dancing but ended up on the floor.
The scene where Patrick Swayze's character lifts Jennifer Grey is quite famous and has been attempted several times before due to the romantic symbolism it has.
But, unfortunately, not everyone can do it like Swayze could and, in this case, both bridesmaid and groomsman failed to make the dance move work and fell flat on the dance floor, with the video ending up on Youtube.
Their identities are yet to be revealed, but it has been reported that the incident took place at a wedding in Escondido, California, and it was recorded by one of the guests.
Follow us on our Twitter account @amomama_usa to learn more.
In the clip, the smiling blonde can be seen putting down her bouquet and start running towards the groomsman, who is waiting for her near the dancefloor.
Sadly, the sharp-dressed man doesn't get the timing right and ends up placing his hands lower that he should have, causing the bridesmaid to rotate all the way down.
Luckily, none of them was injured in the process, which could have ended badly. But situations like these can occur at any time and the more unexpected they are, the funnier they become.
Recently, a young boy named Deacon Casanova made the internet explode with laughter thanks to his unusual approach to diving. It all started with his mother, Corina, teaching him and his brother, Winston, how to dive into the pool.
A DIVE TO LAST THROUGHOUT THE AGES
While his brother was doing the best he could and tried to pay attention to what Corina was showing them, Deacon was lost in his own world.
When the time to jump into the pool came, instead of trying to dive in, Deacon just let his body hit the water like a plank, giving the world a very adorable and funny moment to enjoy.
Please fill in your e-mail so we can share with you our top stories!