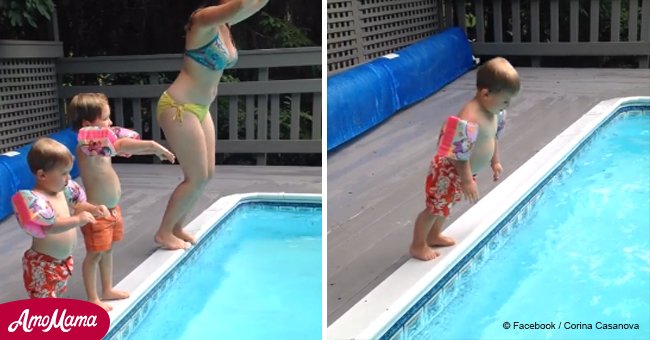 Little boy tries to dive into a pool but his hilarious fail goes viral
A two-year-old Deacon Casanova's attempt to dive into a swimming pool is so adorable that the video is all over the internet and people are finding it hard to watch it just once.
The boy's mother, Corina Casanova, uploaded the clip on Facebook on July 16, 2018, and it has since gone viral.
Corina recently shared the video of her teaching her two young boys, Deacon and Winston Casanova, to dive and what her youngest son Deacon did is downright the most hilarious scene.
Read more on our Twitter account @amomama_usa.
Deacon instead of paying attention to his mother decides to plunge into the pool.
Corina was instructing the boys to put their arms up over their head and keep their feet together, before diving herself.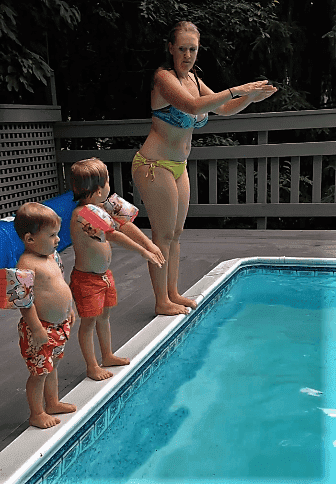 Source: Facebook
Winston, her older son at least tries to follow her instructions by watching her out of the corner of his eye, as she bends her knees and jumps, carrying out a dive and landing with a splash.
He follows his mother seconds later after he bends at the knees and dives in after her. He makes an effort to imitate his mom.
Deacon, on the other hand, had a completely different idea of executing the dive.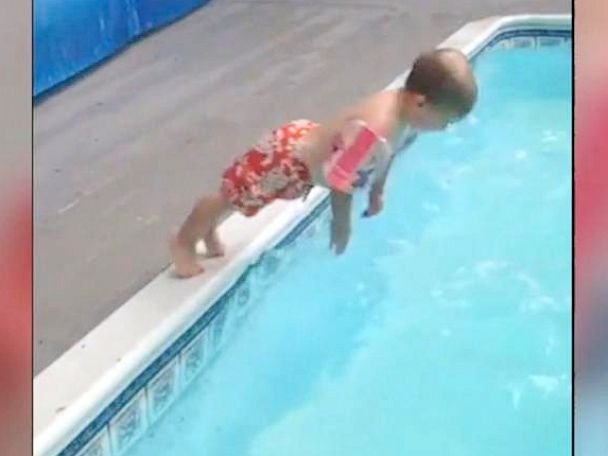 Source: Facebook
The youngest Casanova hardly looks at his mother when she teaches them the ropes of a proper dive. He keeps his eyes away from his mother's demonstration and that becomes his undoing.
"Go ahead, Deac!" a voice, most probably Deacon's father, calls out. Deacon does a belly flop instead and falls into the pool.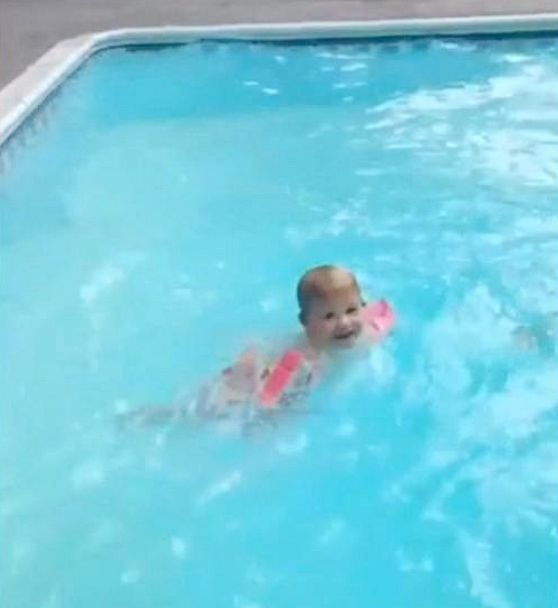 Source: Facebook
Almost immediately after the fall, the man behind the camera lets out a concerned cry, as belly flops can be painful.
But as soon as Deacon falls into the pool, he pops right up and smiles as his family gives him a round of applause. His little tummy must have acted as a cushion because his reaction shows that he was not even a little hurt by the fall.
Viewers around the world are not only in love with this video, but are finding it relatable too. One of the comments was posted on the video said, 'That kid is me going through life.'
In just about two weeks, the video has garnered over 7.7 million views, more than 36,000 likes, and 21,000 comments.
Please fill in your e-mail so we can share with you our top stories!