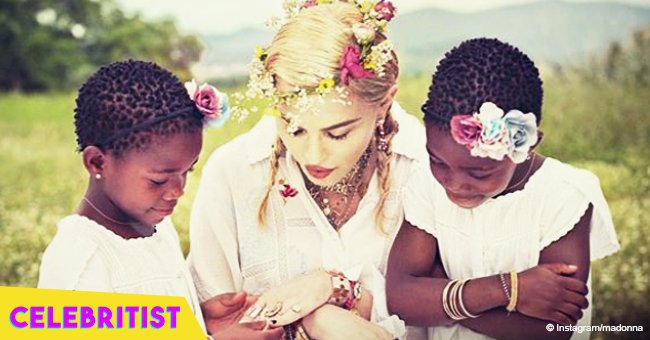 Madonna's Black twin daughters turn 6 in festive birthday celebration in pics
Madonna celebrates her adoptive twin daughters' sixth birthday with a "monster blowout." Videos from the weekend celebrations reveal happy moments shared by the girls.
If there's one aspect of Madonna's legacy that puts her at an admirable position, it's her devotion to being a mother. The "Material Girl" has proven, without a doubt, that she cares for children, be it her biological ones or those she chose to adopt from Africa.
Among her six children, four of them were adopted by the singer and her youngest ones happen to be twins. Stella and Estere were only four years old when Madonna took them in after one of her visits to Malawi. Two years later and they're celebrating their sixth birthday with a lot of fanfare, thanks to their adoptive mother's devotion to keeping them happy.
A video from the twins' birthday celebration posted by Madonna reveal lots of donuts adorned with long, thin candles. Stella and Estere wore matching dresses but in different colors as they blew out their candles surrounded by their guests. "Monster blowout" is how Madonna chose to describe the moment as she posted the video in slow motion.
In another video, a tiny voice is heard in the background singing the happy birthday song. The twins stood side by side wearing their beautiful African-inspired birthday dresses as they fashioned heart-shaped sunglasses with blinking lights. The video appeared to have been taken from their bedroom after the party.
The next day, the celebration continued on the dance floor. Madonna shared a video of the twins dancing to Drake's famous track, "In My Feelings." They were accompanied by another man who was possibly their dance instructor. The twins showed off their impressive dance moves as their mother cheered them on from the background.
Last year, Madonna opened up about why she decided to adopt Stella and Estere despite already being a mom to her 11-year-old adoptive children David Banda and Mercy James and to her two biological children, Rocco John, 17, and Lourdes, 20. She had an epiphany in the summer of last year. Madonna already met the twins two years prior and she already felt connected to them then. But one day, it just hit her.
"Sometimes I would just close my eyes and just think, 'Why isn't my kitchen filled with dancing children? There's so many children that need a home. I thought, 'What am I waiting for? Just do it.'"
It was after that moment that she began the adoption process. Her kids were excited to be expanding their family knowing it made her happy.
Since adopting her twins, Madonna has been sharing moments of their life with her on Instagram. Most of her videos are a delight to watch showcasing the girls' talents. However, one of her more recent posts got some negative attention because she used a caption closely associated with Donald Trump.
"Make America Great Again!!!!", Madonna wrote to accompany a photo of the twins standing against an American flag. Fans reacted to the seemingly inappropriate use of the white supremacy tagline. In response to her critics, Madonna revised her caption to explain what she actually meant.
Please fill in your e-mail so we can share with you our top stories!