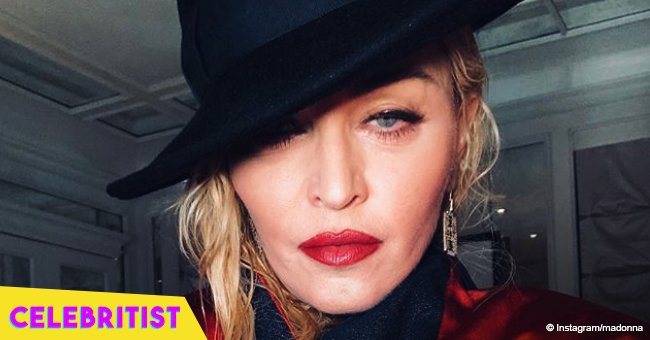 Madonna slammed for sharing pic of Black daughters with 'Make America Great Again' caption
Madonna has done it again. She managed to rouse Twitter fans with a puzzling post that 's gaining negative responses from them. It was only a while back when she also called attention to an offensive photo that earned the ire of fans of two popular singers.
Twitter is abuzz over Madonna's latest controversial post where she uses a Trump tagline to caption a photo of her two African American children.
Madonna's two youngest girls, Esterre and Stella, were on board a sailboat together when their mother took a snap of them while attempting to steer the boat. An American flag was visible in the background as it flapped with the wind and in a surprising move, the singer captioned the pic,
"Make America Great Again!"
The post puzzled and later displeased Twitter users who saw Madonna's use of the tagline that represented white supremacy as inappropriate. Several tweets expressing distaste flooded social media soon after. Here are some of them.
However, Madonna later pointed out the real meaning of her message which isn't at all what many thought it to be. She clarified the irony of her message on her Instagram when she wrote this caption to accompany the same Twitter photo:
"Lets Make America Great Again!!!!! Love all people. Embrace all people, Remember that This country was built by immigrants and most of all look up the word #ironic #sailboatvibes #rebelhearts #lovemakestheworldgoround"
This isn't the first time the controversial singer drew flak for her post. In June, fans of Beyonce and Jay-Z slammed the star for tampering with a screenshot from the couple's music video. She grabbed a frame of the husband and wife looking up at an artwork in the Louvre museum and replaced the artwork with a photo of her album. She accompanied the post with the caption, "Learning from the master…lol."
The caption many thought was offensive for its undertones was immediately replaced by Madonna after fans expressed their anger over it. She changed it to "Learning from the Teacher…lol" which still didn't sit well with fans. In the end, she edited the line to "Learning…lol" and that seemed to have ended the outrage.
Madonna will be turning 60 this month and as part of her birthday plans, she partnered with Ripple to raise funds for orphans in Malawi. It's no secret the singer who has six children, four of which are adopted, is very attached to the African nation. All of her four adopted children including Esterre and Stella and older children David Banda and Mercy James are natives of Malawi.
As part of the Ripple initiative, Madonna will help raise funds to assist orphans of Malawi through her charity, 'Raising Malawi.' All public donations will be matched by Ripple in support of Madonna's cause. The fundraising period started in July 30 and will end on August 31.
Please fill in your e-mail so we can share with you our top stories!