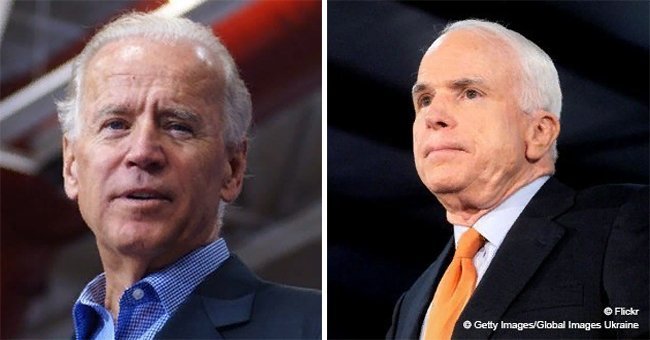 Joe Biden burst into tears delivering powerful eulogy for long-time friend John McCain

Former Vice President Joe Biden broke down into tears during the late Senator John McCain's memorial service on Wednesday.
As reported by ABC News, he said in the eulogy, "My name's Joe Biden. I'm a Democrat. And I love John McCain."
He went on to say that McCain's story "was the American story" which should be grounded in respect and decency, and that he viewed McCain as a brother.
Read more on our Twitter account, @amomama_usa. The short extract of his moving eulogy can be seen below.
Biden reiterated that McCain despised the abuse of power "in whatever form and in whatever country," and was very vocal on that topic.
"It wasn't about politics with John. He could disagree on substance, but the underlying values that animated everything John did, everything he was, come to a different conclusion."
The Vice President said McCain would "part company" with a person if they lacked "basic values of decency and respect."
McCain, 81, lost the battle to brain cancer on Saturday, less than 24 hours after refusing any further treatment for the cancer.
His daughter Meghan McCain said in a statement earlier this week that her father raised her, taught her, corrected and comforted her throughout the years. She added:
"I was with my father at his end, as he was with me at my beginning. He loved me, and I loved him. [...] His love and his care, ever-present, always unfailing, took me from a girl to a woman - and he showed me what it is to be a man."
McCain was diagnosed with a glioblastoma thirteen months ago and underwent aggressive chemotherapy and radiation since then.
He was given a 3 to 14 percent chance of survival. Brain cancer patients, on average, typically survive less than a year and a half after diagnosis.
The late Senator's body will be transported to Washington D.C today and will be interred at the Washington National Cathedral on Sunday.
Please fill in your e-mail so we can share with you our top stories!