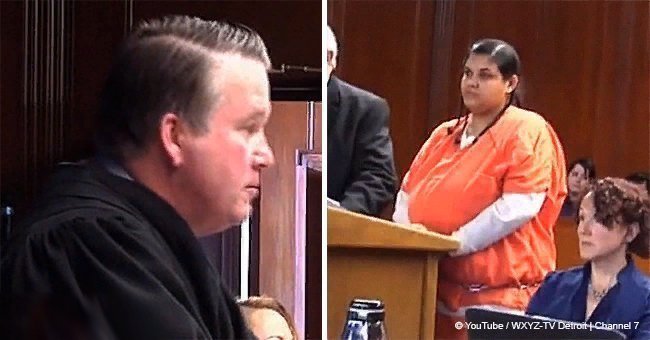 'I hope you die in prison': Judge loses cool in courtroom during sentencing
During the sentencing of the then 31-year-old Camia Gamet, Judge John McBain lost his composure after Gamet's allegedly disrespectful behavior toward the family members of the victim.
A video report uploaded to YouTube by WXYZ TV showed McBain sentencing the woman to be put in jail for the rest of her life without getting a chance of parole following the murder of her boyfriend in their own apartment in Jackson.
The Jackson County Circuit Judge McBain pronounced the murder to be one of the worst "cold-blooded murders" he had ever witnessed.
Marcel Hill, Gamet's boyfriend was stabbed to death on May 18, 2014, with a kitchen knife. During the hearing, Gamet was seen rolling her eyes and snickering while one of the victim's aunts was speaking to the court.
Follow us on Twitter to learn more.
McBain was frustrated at Gamet's behavior as it showed her lack of remorse at the crime she committed. It ultimately invoked an outburst from him as he lost his temper and ultimately started to yell at her.
Gamet had a history of violent behavior against Hill. She had attacked him with a pan, a hammer, and even a floor lamp in the past.
McBain told Gamet, "You were relentless. You stabbed, you stabbed, you stabbed, you stabbed, you stabbed until he was dead. I agree with the family, I hope you die in prison as well. You know, if this was a death penalty state, you'd be getting the chair."
Gamet was convicted of first-degree murder by a jury. Gamet's defense had attempted to claim in the court that she thought she was stabbing an intruder in a dark room. She defended that the murder was committed in self-defense.
However, the jury and the judge alike did not believe Gamet's story. They were not convinced as Gamet did not suffer any injuries during the fight.
38-year-old Hill was stabbed 11 times by Gamet. His family believed that justice was served after Gamet's sentencing and hoped that the case would make people aware that there is no one fixed way in which domestic violence may occur.
Later, in an interview with M Live, Judge McBain defended his outburst by explaining that he did not think he did anything wrong.
"Sometimes, I think a judge needs a little fire in the right kind of cases," he told in the interview. It was informed that McBain also screamed at yet another convict being sentenced to life telling him that he would die in prison.
Please fill in your e-mail so we can share with you our top stories!