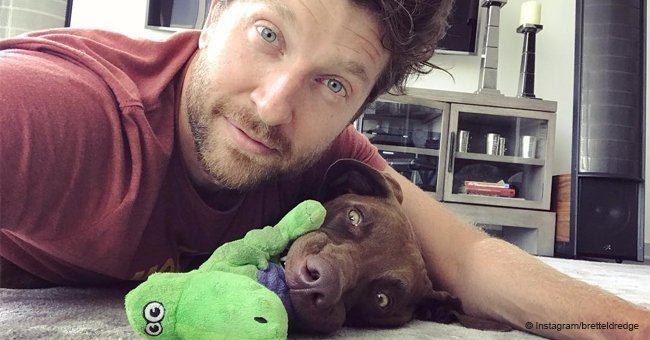 Video of country star singing a lullaby to his dog has gone viral
Singer and songwriter Brett Eldredge loves to sing to his a 2-year-old Vizsla pup, Edgar Boogie.
In an Instagram post shared with 1.3 million followers earlier this week, Eldredge sings "Over The Rainbow" for his adorable pooch.
Edgar loves it so much that his eyes start to droop as he falls asleep. Eldredge wrote: "Somewhere over the rainbow it's Nation Dog Day. Sing your pup a lullaby."
He added a puppy emoji along with the hashtag "national dog day," and the post had received more than 250,000 views in less than five days.
Read more on our Twitter account, @amomama_usa. The adorable footage can be seen below.
In another post, Eldredge sings "You Are My Sunshine" while cuddling Edgar on his lap and never had a dog looked so content before.
Rare Country describes Eldredge as the "most dedicated dog dad, and the love he has for his dog is evident when one scrolls through his timeline.
On July 13, Eldredge wrote: "2 years ago today, this lil fella [Edgar Boogie] came into my life. He was covered in fleas, so I gave him a bath. He was scared to death."
Eldredge explained that he was scared to but the pair quickly bonded and he is grateful to have his beloved pooch by his side.
"I swore I'd never say it, I guess it's true, I'm a dog dad, and I'm so happy I get to have this guy along for this crazy ride."
Edgar also has his own Instagram account with 208,000 followers. According to his caption, it's posted from his own paws, and he is weirder than his dad.
The 32-year-old Eldredge rose to fame back in 2010 when he signed with Atlanta Records, and his first single "Raymond" soon made it to the top of the charts.
Since then, he has released four studio albums and nine hit singles. Eldredge also won the American Country Countdown Award for as Breakthrough Artist of the Year in 2014.
Please fill in your e-mail so we can share with you our top stories!