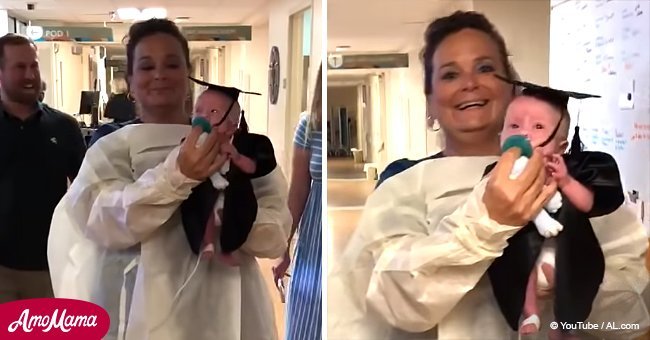 Baby who was born after just 22 weeks of pregnancy has 'graduated' from intensive care
Newborn baby Cullen Potter, from Alabama, was recorded on camera leaving neonatal intensive care unit (NICU) in a true 'graduation' style.
A video uploaded to YouTube by AL.com showed the amazing scene where the little baby was dressed in a graduation gown hat while he still had a pacifier in his mouth.
ABC News reported that Cullen was just 13.9 ounces at the time of his birth in March. He was born four months prematurely and had to stay back in the neonatal intensive care unit, recovering and growing stronger, before he could leave the NICU at University of South Alabama Children's and Women's Hospital.
The parents of the baby, Molli Potter and Robert Potter, decided to celebrate their child's last day at the hospital. They dressed him up in a Build-A-Bear cap and gown, which is the only outfit small enough to fit the baby.
Follow us on Twitter to learn more.
Robert told ABC News that they were at Build-A-Bear with their older son and his wife was looking for something that would fit the newborn babe. "The hat was actually a little big," joked the father.
The video, which has gone viral on the internet ever since being uploaded, a nurse is seen carrying Cullen down the hallway while graduation music plays in the background and the hospital staffs watch as the audience.
As Cullen's parents were told that their baby only had two percent chance to live, the parents had initially lost all hope.
"We were told he had a two percent chance to live. Well, here's our two percent. Perfect in every way. God is good, big boy," Molli later stated.
When Cullen was born, their local hospital actually refused to try and save the baby's life because it is believed that babies born before 24 weeks are not possible to save.
The Potters then quickly called in 16 hospitals in a desperate attempt to save their baby's life. However, all the hospitals gave them similar reply until they came across the USA Children's and Women's Hospital.
Please fill in your e-mail so we can share with you our top stories!