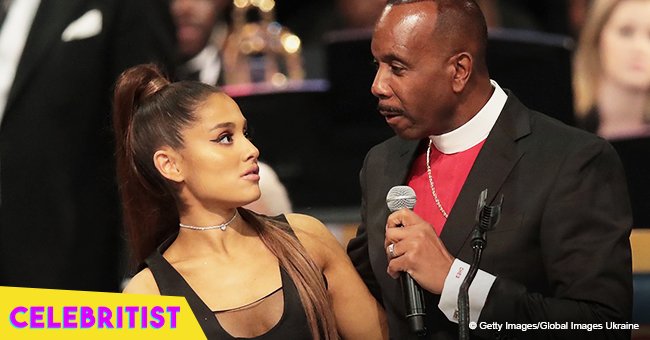 Aretha Franklin funeral bishop apologizes to Ariana Grande after 'too-friendly' grab

As Ariana Grande paid her respects to the late Aretha Franklin, the bishop officiating her funeral service showed a lack of respect for her by groping her on stage. This prompted him to apologize to the singer for being "too friendly."
Bishop Charles H. Ellis who officiated Aretha Franklin's funeral has apologized after inappropriately touching Ariana Grande when he greeted her on stage after her performance in memory of the Queen of Soul.
A video of the bishop conversing with the singer and making a joke about her name revealed his lack of respect when he circled his arm around her and pressed his hand against one side of her chest. The awkward situation drew a lot of negative attention with fans reposting images of the groping incident and tagging it with #RespectAriana. This prompted the pastor to issue an apology saying he may have "crossed the border."
During an interview with The Associated Press, Ellis stated,
"It would never be my intention to touch any woman's breast. ... I don't know I guess I put my arm around her. Maybe I crossed the border, maybe I was too friendly or familiar but again, I apologize."
He added,
"I hug all the female artists and the male artists," Ellis said. "Everybody that was up, I shook their hands and hugged them. That's what we are all about in the church. We are all about love."
"The last thing I want to do is to be a distraction to this day. This is all about Aretha Franklin."
See what actually transpired in the video below.
Ellis also apologized to Grande for making a joke about her name when he said he thought it was an item on the Taco Bell menu.
"I personally and sincerely apologize to Ariana and to her fans and to the whole Hispanic community. When you're doing a program for nine hours you try to keep it lively, you try to insert some jokes here and there."
While she gained support after that unfortunate incident with Ellis, Grande also had to face criticism earlier when people expressed their distaste over her wearing a short dress to the church ceremony. One fan tweeted,
"#ArianaGrande don't know the below the knee rule for the pulpit in the black church. Somebody hand her a lap hanky and a choir robe. Bless her heart"
The singer or her representatives did not issue any comment regarding the issue.
Meanwhile, Franklin was laid to rest at the Woodland Cemetery in Detroit on Friday evening, over two weeks after her passing on August 16. She was buried in a gold dress and sparkling pumps and placed inside a gold-plated casket.
Soon after her death, reports revealed the singer left no will behind which came as a surprise to many. She has four children, one of which has special needs. This will not pose a problem though as Michigan law provides for the division of her estate equally among her children in the absence of a will.
Please fill in your e-mail so we can share with you our top stories!