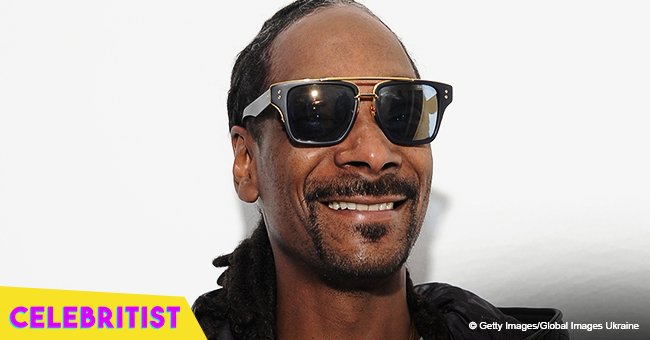 Snoop Dogg's newborn granddaughter adorably smiles in her sleep in latest video by dad

Snoop Dogg's newest grandchild surprises her father after he puts her to sleep. What she did made him laugh.
An adorable video of Snoop Dogg's latest grandchild sleeping is giving us good vibes this week. The rapper's son, Cordé Broadus was ready to retire after putting his brand new daughter to sleep when the little girl did something to make her father laugh.
News of the birth of Snoop's second grandchild broke last week after Cordé's girlfriend, Soroya Love brought her into the world on August 17. The spiritual guru who delivered her daughter the natural way shared a video on YouTube introducing her as Eleven and sharing the joys of natural childbirth with her viewers.
Meanwhile, Cordé took to his Instagram and announced the birth of his second child while lauding his girlfriend for enduring the delivery process without the assistance of drugs.
"Today my daughter, 11, was born @sorayaspanish did an all natural birth with no Epidural or drugs from beginning to end. And while I have y'all attention please watch the movie #BusinessOfBeingBorn and take advantage of the experience of giving birth the natural way."
Since Eleven's birth, Cordé has been sharing clips of his precious moments with his daughter. They're usually in bed, with the baby either sleeping or wide awake.
His latest video is bound to melt hearts as the little girl issues a smile while sleeping. Cordé appeared to have put her to sleep and revealed in his caption that it was 5 am at the time. He also said his daughter "finally gave me permission to sleep after tending to all her needs." He added, "she even laughed about it" after Eleven smiled slightly through her sleep.
Eleven is Cordé and Soroya's second child. They welcomed their older son, Zion in 2015. On being a grandfather for the first time back then, Snoop revealed his pride and joy as he shared photos of his family welcoming Zion.
"Zion. U have a lot of love WAitn on u grandson!!," he wrote and later shared another photo of his wife Shante Broadus cuddling the newborn.
Please fill in your e-mail so we can share with you our top stories!