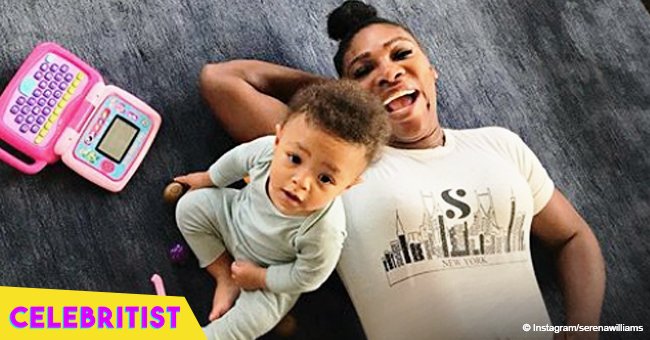 Serena Williams' daughter Olympia melts hearts in her pink bib while eating in cute pic

A new photo of Serena's daughter melts hearts as she exhibits an appetite just days after she turned one without any fanfare.
Serena Williams' daughter Olympia just turned one on September 1 and while the milestone passed without a fancy party or much fanfare, Serena made sure her little girl stole hearts this week with a precious photo of her eating.
Last week, amid the flurry surrounding her return to the US Open, the tennis superstar revealed she wasn't going to be celebrating her daughter's first birthday. She opened up to reporters at a press conference ahead of the US Open and disclosed that her obligation as a member of Jehovah's Witness prevents her from celebrating the occasion. When asked if a birthday party was planned, she said,
"'Olympia doesn't celebrate birthdays. We're Jehovah's Witnesses, so we don't do that."
But while she can't even greet Olympia on her birthday due to her religion, Serena did mark the day by sharing a series of clips from a year ago when she was preparing to give birth to her daughter. Her throwback clips were shared just a week after she begged off from a press conference to tend to her daughter who was feeling "under the weather."
But Olympia seemed to be feeling more than fine as she showcased her appetite in a new photo her mother posted. The one-year-old was seated on her high chair looking straight to the camera with a spoon in her mouth. Bits of orange food scattered around her mouth and extended to the pink bib she was wearing. The little girl looked so adorable with her big eyes and pronounced eyelashes. Birthday party or not, she's clearly a reason to celebrate.
Serena's devotion to striking a balance between her sport and her family is something she can be proud of. Last week, she took time off from her busy schedule to spend some alone time with Olympia. Mother and daughter were photographed hanging out in an alley in New York City. While Serena flexed her leg muscles against a wall, her daughter patiently sat in her stroller looking straight to the camera. The adorable snap proves what kind of a mother Serena is – one who can heed to the demands of her career and daughter like the superstar that she is.
Please fill in your e-mail so we can share with you our top stories!