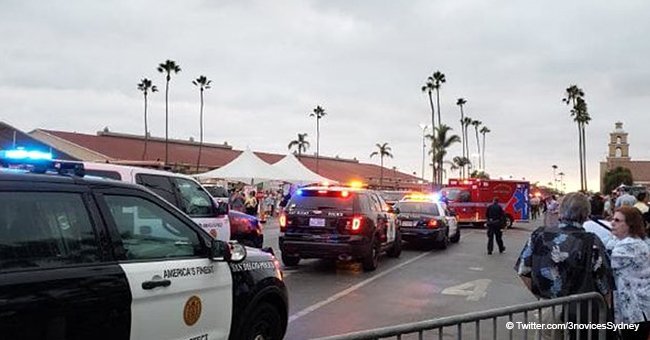 Police shoot man who opened fire in crowded area before Ice Cube concert

Police shot a concertgoer who chose to take his fan obsession to a dangerous level yesterday. The incident occurred before an Ice-Cube concert at the Del Mar racetrack in San Diego.
The man, according to the San Diego "Union-Tribune," had approached one of the ticket windows around 6:40 pm, and asked to be sold a ticket. He was told the show was sold-out, and instead of going home, decided to cause a scene.
He got into an argument with the ticket attendant, and Sheriff's deputies had to intervene. A sheriff's statement explained:
"An argument ensued and nearby deputies responded. The man pulled out a silver plated semi-automatic handgun and fired several shots into a crowded area. Deputies engaged and returned fire."
Pandemonium broke out in the track and its environs as people scrambled to safety. The shooter was eventually taken to the hospital in an ambulance after he was shot by one of the sheriff's deputies. No other casualties were recorded.
An announcer at the track is reported to have said: "There's gunfire at the track" while horses galloped along the turf course. A couple of concertgoers left the arena afterward.
The Del Mar Racetrack took to their Twitter page at 7:22 pm to assure visitors that everything was fine. They tweeted:
"The situation has been contained. The concert is moving forward as planned."
Ice-Cube's concert was a part of the 2018 Del Mar Summer Concert Series and was scheduled to take place at the Seaside stage located on the fairgrounds. The show eventually attracted close to 18,000 people, selling out in record time.
So far, there is no information on the health condition of the shooter who was taken to Scripps Memorial Hospital La Jolla.
Shootings are becoming more of a common occurrence in the United States. Less than a month ago, Chicago witnessed a violent weekend of shootings that left 12 people dead and 54 wounded.
Following the horrific incident, Chicago Police Superintendent Eddie Johnson emphasized:
"As long as we fail to hold repeat gun offenders accountable for their actions we're going to keep having these discussions on Monday mornings."
Please fill in your e-mail so we can share with you our top stories!