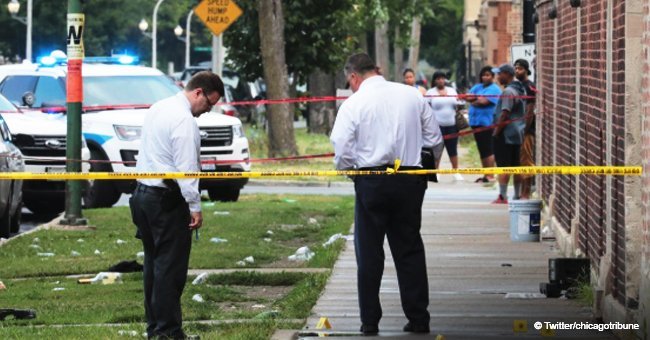 Deadly weekend shootings in Chicago leave 12 dead and 66 injured
Last weekend turned out to be a tragedy for Chicago after a total of 66 people were shot between Friday and Sunday.
The violent weekend in Chicago left 12 people dead and 54 wounded from 6 p.m. last Friday to 11:59 p.m. on Sunday. According to ABC Chicago, the shootings concentrated in four police districts, particularly on the South and West sides.
At a press conference that happened on Monday, a visibly frustrated Chicago Police Superintendent Eddie Johnson pressed on the importance of holding gun offenders accountable for their actions. While he claims that they are investigating all leads on the number of shootings, they have not made any arrests due to lack of evidence.
"As long as we fail to hold repeat gun offenders accountable for their actions we're going to keep having these discussions on Monday mornings."
Johnson also made sure to stress how grave it is for the community and the police to work as one cohesive unit. Likewise, some members of the city that have been interviewed by ABC agreed with what their superintendent said. Tama Manasseh, a member of "Mothers Against Senseless Killing" shared:
"The police are not going to save us. The city is not going to save us. The cavalry is not coming. The cavalry is us. We have to save each other."
Meanwhile, Mayor Rahm Emanuel has personally visited the Stroger and Mt. Sinai hospitals to thank those who have treated the victims of the separate attacks. During his press conference with the Police Superintended, he says that regardless of the neighborhood it happened in, it happened in their hometown of Chicago.
"It may not have been in your neighborhood, it may not have been in your community, may not have been on your block. But that neighborhood, that community, that block is in the city of Chicago and it is part of our home."
Johnson and the rest of the Chicago police hope that once the shock of the weekend wears off, people will start talking about who is responsible for the shootings.
During the weekend, there were a total of 33 shooting incidents. Fourteen juveniles were shot, which included an 11-year-old, a 13-year-old, and two 17-year-olds.
While there have been no arrests for the shootings themselves, 46 people were arrested on gun charges, and 60 guns were seized due to the investigations. The Chicago police are now urging people to speak up about the criminals and to hold them accountable for what had happened over the weekend.
While the weekend shooting has been deadly, The Tribune, which tracks shooting statistics, reported that the city's shootings have declined as compared to 2017.
Please fill in your e-mail so we can share with you our top stories!