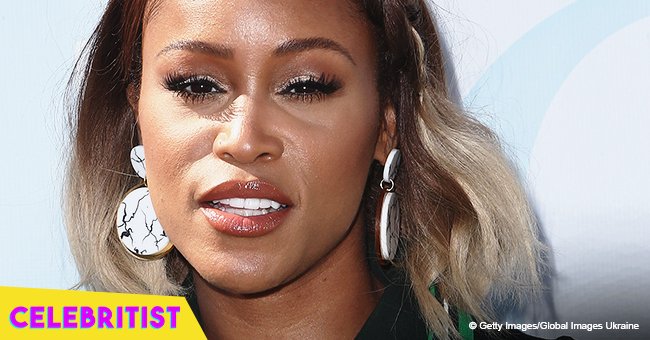 Eve stuns with her natural hair & make-up free face in photo from the beach
Eve has been embracing her natural looks for the past few years, and in a recent beach pic shared to her Instagram, she rocked her natural curls and flawless make-up free face. She revealed that her husband, Maximillion Cooper, was the first man to see her without a weave.
The rapper, actress, and TV host has been pretty busy these days. She's been co-hosting CBS's "The Talk" for almost a year now while keeping her music career afloat with performances here and there, as she's allegedly working on new material. She's also often traveling around with her husband and supporting his endeavors, like the Gumball 3000 career last month.
However, Eve also has time to relax and take good pictures.
In her most recent Instagram post, the 39-year-old looks stunning as she enjoys a day under the sun at the beach, rocking her naturally curly hair and showing off her make-up free face, proving that her skin is flawless. The rapper seems to be wearing a yellow swimsuit and added flair to her look with a pair of gold necklaces.
Her loyal fans immediately flocked her comment section to praise the rapper's natural look. One user wrote "Your skin is flawless queen. Absolutely beautiful," and another added, "I knew you were beautiful, but that's Natural Beauty that you born with."
Earlier this year, Eve shocked fans when she appeared on "The Talk" wearing a bathrobe and her make-up free face. The rapper did so because it was part of her 2018's resolutions, as she explained that make-up had become a "protective blanket" in her life.
Speaking to Entertainment Tonight, she said:
"It's been a security blanket how I use makeup. I wear it to the gym, which is really bad, and it's a new year, and it's time to be free. You don't need makeup to be who you are. It's scary, but it's a learning process, and I'm enjoying it. Me and vulnerability have not been friends classically, and I'm going to embrace that."
Eve's husband, the multimillionaire Maximillion Cooper, is said to enjoy the rapper's natural looks even more than her artificial ones. She revealed on an episode of "The Real" that Coopper was the first man ever to see her without her weave.
"I was at a salon actually, in a little suite. He walked in, and I was like, what am I gonna do? Run? He was just like, 'Okay,'" she revealed. "I'm his first Black girl anyway. He has gone through Weave 101 with me. He knows now that if I say, 'Babe I'm getting my hair done,' he's like, 'Well, how long?'."
According to Eve, Cooper couldn't "care less" about her glamorous look. That's how she knew he was the one.
Please fill in your e-mail so we can share with you our top stories!