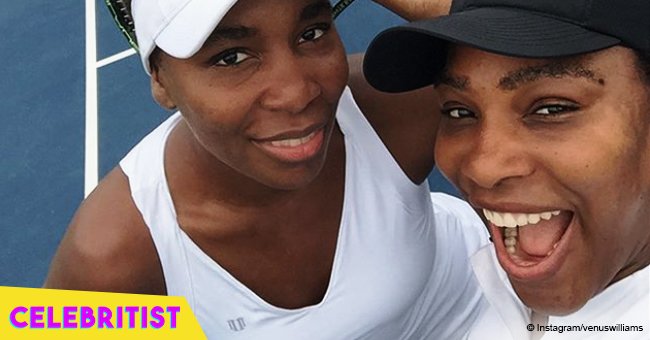 Serena & Venus Williams kiss their rarely-seen father in sweet throwback photo
Venus Williams shares an adorable throwback photo of her and her sister Serena giving their rarely-seen father a kiss on the cheek.
While many people might think Serena and Venus Williams aren't close to their father Richard Williams especially after he chose not to walk Serena down the aisle last year, the sisters proved that this isn't true.
In a recent photo shared by Venus on Instagram, the two famous sisters could be seen giving their dad some kisses, thanking him for being there with them during their 20-years in the tennis world. It was their father who was responsible for introducing them to the sport, acting as their coach during their younger years.
Although Richard was a huge part of the sisters' life as they grew up, he chose not to attend one of the most unforgettable moments in Serena's life: her wedding to Alexis Ohanian.
In her HBO documentary "Being Serena", she recalls how her father and longtime coach texted her an hour before her wedding that he didn't feel comfortable giving her away.
"He was in New Orleans, he had a suit, and I know he was really excited. But then he wrote me and said: 'Serena, I don't want you to be mad at me, but I just can't walk you down the aisle. I'm not myself anymore. I'm just too nervous'."
The 36-year-old tennis champion, who welcomed Alexis Olympia Ohanian Jr. just two months before getting married, remained calm and understanding during her conversation with her dad.
"Daddy, it's okay, if you don't want to come to the wedding at all, that's okay too. I'm not going to be upset with you about it, so I don't want you to be upset about it."
Serena made sure to let everyone know that Richard is doing much better now and that at the time of her wedding, he just wasn't feeling good about himself. While other daughters might have reacted differently to their fathers suddenly backing out from their weddings, she just wanted her dad to be happy.
"Maybe a lot of daughters wouldn't react the same way, but I know the struggles he's had these last few years."
Serena and Venus' love for their father just shows how well he brought them up, and although it seems they are not close due to their father's low-key ways, they actually share quite a strong bond with one another.
Please fill in your e-mail so we can share with you our top stories!