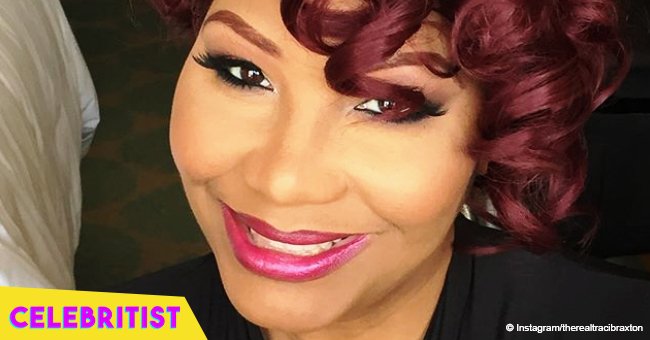 Traci Braxton, 46, turns heads in backless black dress in recent pic
Traci Braxton is busier than ever in between promotions for her new album and her reality show. Still, the 46-year-old has time to dress up and show up ready to turn some heads, as her most recent Instagram picture proves.
The Braxton sister looks stunning in a recent photo with her newest business partner, former "Real Housewives of Atlanta" star Phaedra Parks. In the Instagram shot, both women are wearing black, with Traci showing off some skin in a sheer black shirt that put her back on display and sparkly high waisted pants.
Parks, 44, is rocking a long-sleeved black jumpsuit with a leather belt. The lawyer and reality star joined Traci on the new season of "Braxton Family Values," leaving fans of the show extremely confused as to why would someone outside of the Braxton sisters become a star on the show.
Traci explained in an interview with Essence that she and her sisters, Toni, Tamar and Trina Braxton, were having some business disagreements. The sisters refused to show up when the shooting of the new season started until their contracts were re-negotiated with WeTV.
So, she decided to call Parks and some other friends like Flava Fav, Tiffany "New York" Pollard, and Kym Whitley to join her on an adventure going from Wyoming and South Dakota to learn about the history of Black cowboys.
Traci is the ambassador of Black Cowboy Whiskey, and the adventure is part of her effort to promote the brand.
"I was down in the dumps with my sisters…and it was one of my business ventures, my Black Cowboy Whiskey," she said, "And I wanted to reenact being on a ranch with black cowboys."
Some people were expecting to see Traci on her new life facet as a grandmother on the show, but it seems like that's no on the cards. Kevin Jr., the singer's only son, welcomed his first son a few months ago, and the singer and reality star couldn't be happier about the new addition to the family.
In an interview with the Grio, she explained why she prefers to be called "Duchess" instead of a grandmother:
"My sisters and I…when we were younger, we said if we ever have kids, and our kids have kids, our names would be Duchess. That's royalty, that's what they call the Queens when they have grandkids. So, I'm royalty."
Traci also released her new album, "On Earth," a few days ago.
Please fill in your e-mail so we can share with you our top stories!