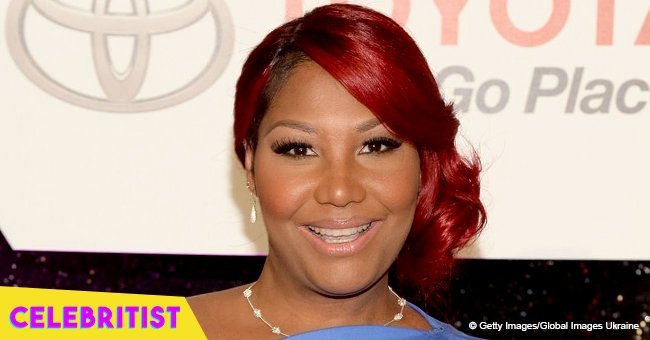 New grandmother Traci Braxton posts a pic of son and his girlfriend holding newborn baby
The singer's son Kevin Jr, his young wife and adorable baby make the perfect family picture. Traci welcomed her first grandchild a few weeks ago and it's clear to see she's over the moon with becoming a grandma. She wears her new title of "Duchess" with pride.
Celebritist learned from "Instagram" that the 47-year-old Traci, who is well-known as part of the famous Braxton family, just loves showing off her newborn grandchild.
"I am so proud of them with the new addition to the family .. GOD is so good .. life is so precious .. cherish every moment of it .."
It was only a few weeks ago that the "Braxton Family Values" cast member took to Instagram to announce the arrival of her new family member.
Traci likes to refer to herself as Duchess instead of grandmother. In an interview with "theGrio", she explained the thought process behind this.
"My sisters and I…when we were younger, we said if we ever have kids, and our kids have kids, our names would be duchess. That's royalty, thats what they call the Queens when they have grandkids. So, I'm royalty."
Traci and her husband Kevin Surratt have been together for 28 years. Although the singer admits that they've had their ups and downs, she says as long as you have love anything can heal. They regularly go to their favorite restaurants and just "date" each other. She also stresses the importance of keeping the spark that originally attracted them to each other alive.
"I have a limit. We argue, we will say hurtful things, but we would come to each other and say, 'I was wrong.'"
Traci is the younger sister of well-known singer Toni Braxton. Her debut solo album "Crash & Burn" was received favorably and she also made her film acting debut in "Sinners Wanted". As far as Traci's personal life goes, she has created a loving and close family - something that money cannot buy.
Please fill in your e-mail so we can share with you our top stories!