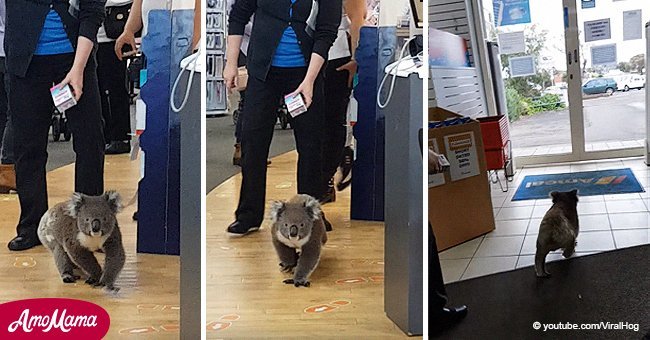 Cute koala caught on camera casually strolling into pharmacy for the third time in one day
The adorable critter interrupted customers shopping when he wandered into the pharmacy, seemingly unconcerned by the large number of people inside the store.
A koala casually walked into an Amcal pharmacy in Portland, Victoria, on August 30, leaving shoppers flabbergasted at his brazen attempt to do some shopping of his own.
Video footage of the marsupial's shop was shared to YouTube, but it wasn't actually the first time the koala had walked into the pharmacy, as he was actually making his third visit for the day.
Although he appeared to be utterly nonplussed over the humans all over the store, a store clerk was quickly trying to shoo him back out of the store, directing him towards the door without getting too close to his long nails.
"I entered the pharmacy and saw a koala in the store. I thought that this is 'cute' so I took a pic of him. He was then promptly shooed out of the store by a store assistant," one eye witness said.
After he was ushered out of the store the first time, he seemed annoyed that he hadn't been allowed to complete his shopping, and made a second attempt, re-entering the store.
When he was shooed a second time, he scampered into the parking lot before stopping to look back longing to the store.
"The third time, I heard a commotion from the customers and turned around and once more, I saw this little fellow doing all he could to get through the store out onto the front street," the witness said. "He did manage to get right through the store to the front entrance. He was however detained by the Pharmacy girls once more, right at the front window display, very close to the front entrance, where there is usually lots of street traffic."
Eventually a large box was gently placed over the adorable little creature to keep him contained until Wildlife Officers arrived to take him to a nearby bushfield where he would be safe.
Shoppers were concerned over the store's proximity to the busy road, where he could easily have been run over by a vehicle.
It's not the first time the furry animals have walked into stores in Australia.
In August 2017, another koala made waves when he wandered into and refused to leave the Tocumwal Pharmacy in New South Wales.
Please fill in your e-mail so we can share with you our top stories!