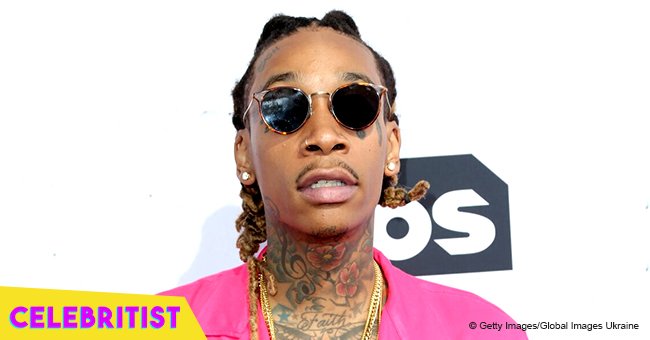 Wiz Khalifa fires back at complaints he lets his son ride the public school bus

Wiz Khalifa defends himself from critics who slammed him for allowing his son to take the school bus on his first day. See the rapper's video where he reveals his reason for his decision and says being rich had nothing to do with it.
Fans of Whiz Khalifa weren't too impressed with him sending his son on his first day in Kindergarten in a public school bus so the rapper fired back at them.
Earlier this week, the "See You Again" singer celebrated his son, Sebastian's first day of school by sharing a photo of the two of them. Khalifa revealed the little boy "rode the bus and ere thang" in his caption.
While the moment appeared to be a happy one with the rapper waving his hand and Sebastian smiling at the camera, followers of the star had something else to say. They questioned Khalifa sending his son to school on a bus when he could very well afford not to. One fan in particular wrote,
"Father of the year? He couldn't even pick up his own child from his first day of school."
And another added,
"Rode the bus..? Take your kid to school wtf."
To this, the 30-year-old fired back and explained being rich had nothing to do with why he allowed his son to take the bus. In a video he posted, the rapper said,
"To all y'all people asking why I would let my son ride the bus because I'm rich – being rich don't got nothing to do with a child experiences. He said he wanted to ride the bus with his friends, so let kids do what they want to do. Chill!"
Soon after he defended his actions, Khalifa's comments section was flooded with supportive messages.
"Good for you for letting him ride a bus with his friends. I think its cool. Nothing wrong with it."
"I liked that your son got to ride the bus. It made him feel more like a normal kid and I'm sure he loved it!"
Khalifa previously expressed his nervousness over his son he fondly calls Bash starting Kindergarten. He wrote on Instagram,
"I'm super nervous and confident at the same time. I know I prepared him for this and he's more than ready to handle what's next. Love you Bash."
Bash is Khalifa's son with his ex-wife Amber Rose. They share joint custody of the boy.
Please fill in your e-mail so we can share with you our top stories!