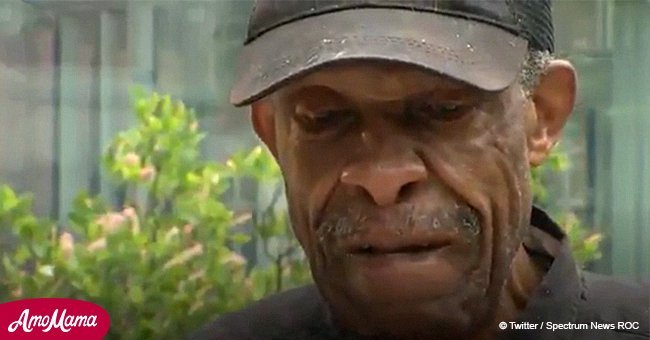 98-year-old man walks 12 miles just to see his wife every day
After his wife was hospitalized he has been crossing the 12-mile distance between them every single day, but has shocked everyone by doing so on foot.
98-year-old Korean War Marine veteran Luther Younger of New York has demonstrated in the most beautiful way the meaning of "for richer of for poorer." His wife, Waverlee Younger, has been lying in the Strong Memorial Hospital for weeks.
Waverlee was diagnosed with brain cancer in 2009, which has recently left her paralyzed. But that hasn't stopped her husband of more than 50 years from coming to see her, even if that means walking 12 miles along a busy highway.
On August 28, he was spotted walking on the I-390 in the rain by Dan Bookhard, who insisted on stopping and offering the elderly gentleman a lift to wherever he needed to go.
"My upbringing; when you see somebody elderly, when you see somebody struggling when it's raining… I had to pick him up and I couldn't be one of the ones who would just drive by," Bookhard said.
For Luther, there is no question as to why he would undertake the dangerous trek to visit his wife as often as he can.
"I ain't nothing without my wife. It's been a rough pull. It's been tough."
The couple's daughter, Lutheta Younger, says she has offered her father a ride, if he is prepared to wait for when she is available.
"My dad's always walked. He says he does it to stay alive. He still says, 'nope I have to get out there to my wife. I have to go,'" she explained.
Lutheta has set up a GoFundMe page to try and help her parents pay for Waverlee's medical expenses. She has been suffering from the cancer for nine years, after she was told at her original diagnosis that she would not survive past the five-year mark.
The couple, who have decades of love together under their belt, are a true inspiration, with Luther taking his vows to his beloved very seriously.
"She's the best cup of tea I ever had. She would come in and kiss me and say 'baby' and feed me in the bed and this is what I need right here," he explained of their relationship.
Please fill in your e-mail so we can share with you our top stories!