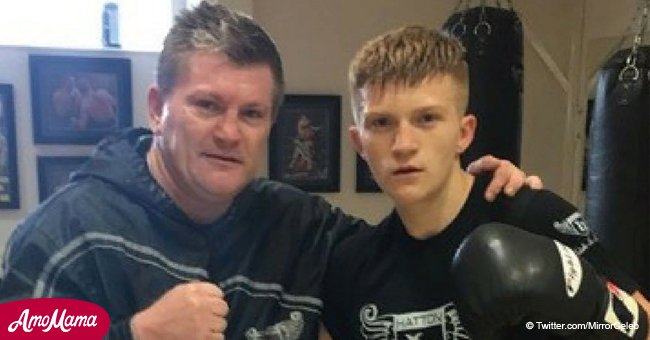 Renowned boxer becomes a grandfather at 39
The former boxing champion has become a grandfather for the first time with the arrival of a baby girl in the family through his son's girlfriend.
While most people Ricky Hatton's age these days are only starting to welcome their children into the world, the boxer has just welcomed his first grandchild into the family.
The 39-year-old's 17-year-old son, amateur boxer Campbell Hatton, and his girlfriend, Keira Brown brought baby girl Lyla Nevaeh into the world on Monday, September 3, with the newborn weighing in at a healthy 6lb 12 oz.
The 16-year-old new mother took to her Facebook account to announce that her daughter had been born, gushing about the tiny baby.
Surprisingly, there was no mention of Campbell in her birth announcement, leading people to wonder if the couple have broken up during her pregnancy. The last photo Brown posted of the pair of them together was back in February, in the early stages.
When the teen first found out that she was pregnant she kept it quiet for a number of months, fearful that she would draw ridicule and criticism for getting pregnant so young.
But it didn't take long for her to become excited about the idea of being a mother, as an unnamed friend told The Sun.
"Keira is over the moon. She is well aware that she is very young to have a baby of her own but is determined to be the best mum possible," the friend said, adding: "Keira was frightened about how people would react at first but when she saw her baby girl for the first time when she went for a scan, she wanted to tell the world."
It is unclear at this stage if Campbell has even met his daughter.
The 17-year-old hopes to follow in his father's footsteps next year by turning pro.
Please fill in your e-mail so we can share with you our top stories!