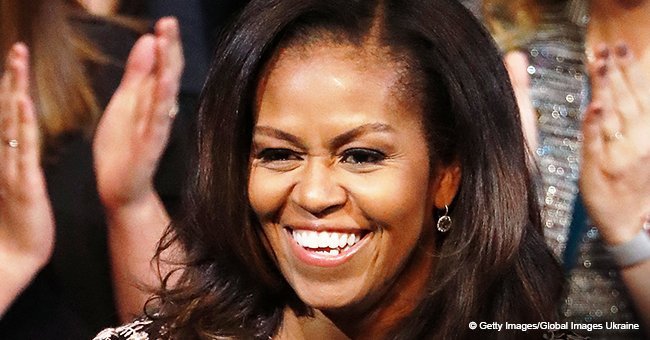 Michelle Obama flaunts her natural curly hair while rocking striped dress during Spain vacation
After eight years of having to look perfect at all times to avoid the media scrutiny, the former First Lady has been letting her (natural) hair down in since leaving the White House.
Michelle Obama has been enjoying a vacation in Mallorca, Spain in the past few weeks. Although she has been trying to remain as incognito as possible, the cameras recently snapped her showing off her natural hair.
Throughout her husband's presidency, Michelle never had a hair out of place, straightening it to conform to the generally socially acceptable standards of what hair should look like to be considered neat and tidy.
But since Barack Obama is no longer president, and Michelle no longer first lady, the gossip about her hair is of no consequence to her.
Michelle has been embracing her natural hair, letting the thick curls flow freely while basking in the Spanish sunshine.
She has been the guest of Ambassador James Costos and his partner, Michael Smith, and was spotted leaving lunch with them on Thursday last week.
Despite the fact that she was attempting to duck to avoid the prying eyes of unwanted cameras, it was definitely her, and she looked as stunning as ever, regardless of what she may have thought of her camera-readiness.
She had on a pale yellow striped dress that perfectly complemented the dark tone of her skin, and wore a pair of dark aviator sunglasses as part of her disguise.
She appeared to be trying to hide behind her security detail as they left the restaurant.
Michelle enjoyed the same invitation from the former US Ambassador last year, and also took the opportunity on that occasion to relax in the Balearic Islands for a few days.
Barack and Michelle recently took a trip to Martha's Vineyard where they faced a hero's welcome from residents.
Please fill in your e-mail so we can share with you our top stories!