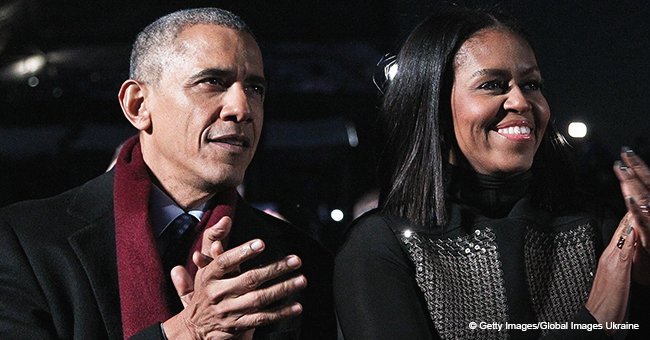 Barack and Michelle Obama receive rockstar welcome from screaming crowd on Martha's Vineyard trip
Barack and Michelle Obama recently started their traditional annual vacation on Martha's Vineyard, an island located south of Cape Cod in Massachusetts.
Given the fact that Barack is one of the most popular former presidents of the United States, what happened on August 6 shouldn't be that surprising. When he and Michelle were getting out of the Cardboard Box restaurant in Oak Bluffs, they found a large crowd waiting for them just outside the place.
In the videos, shared by Martha's Vineyard's Instagram account, Barack is portrayed wearing beige pants and a white shirt waving hello to the people who were cheering and shouting his name.
When Michelle got out and waved at the crowd, they shouted even louder, proving that several people genuinely love not only Barack but also the former FLOTUS.
Right before getting in the truck, Barack waved for the last time, an action that was well-received by the people around the restaurant.
In the caption of both videos uploaded by the previously mentioned Instagram account, they wrote "welcome back" and tagged Barack and Michele Instagram accounts
According to Essence, the Obamas have visited the island almost every year since Barack took office in 2008. They usually go there in August to enjoy their free time resting, going on bike rides, and walking on the beach.
This year's visit represents the second time the couple goes to Martha's Vineyard after Barack left the White House in 2017. At the moment, it is not clear whether Sasha or Malia, their daughters, will join them in this years' vacation.
As Celebritist previously reported, Malia has been spotted in London with her British boyfriend Rory Farquharson lately, so it is very likely to say that she is not with her parents.
So far, the young couple has enjoyed Alan Bennett's new play titled Allelujah! in the Bridge Theater and eaten in the Mayfair restaurant.
Please fill in your e-mail so we can share with you our top stories!