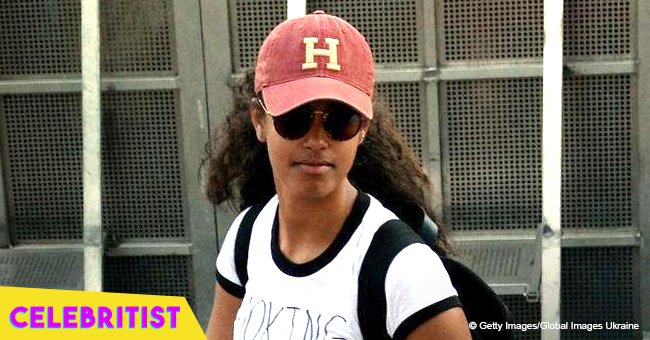 Malia Obama stuns in white mini dress while on date with British boyfriend
Malia Obama, one of the daughters of former President of the US Barack Obama, was photographed during a date with her boyfriend wearing a beautiful dress.
In the images, Malia was spotted wearing black Doctor Martens boots and a tiny white dress that showcased her muscular legs and slim figure. As for the accessories, she put on a necklace, a ring, and a red purse.
The boyfriend of the former First Daughter, Rory Farquharson, chose black shoes, blue pants, and a pink shirt. The pictures portrayed them walking on the streets of London holding hands and talking to each other.
As Celebritist previously reported, the couple went to the Mayfair restaurant in the British city and shared a romantic time together.
During their walk, Rory was spotted smoking a cigarette, something that Malia has been photographed doing, too.
A previous British outing
It was not the first time that Malia and Rory were spotted together enjoying each other's company as they went to The Bridge Theater to see Alan Bennett's new play titled Allelujah!
When the show was over, they were recorded in front of the theater using an e-cigarette before they slowly walked to the River Thames.
Since Malia was smoking, several people started wondering whether or not she had the same addiction that her father, Barack, had before becoming the President of the US. She has not said anything about it, though.
Malia and Rory's love story
It is unclear when the young couple started dating. However, one of the first times they were seen together was in late November 2017, when they kissed each other at the first football game between Harvard and Yale.
Both of them are students at Harvard, and it is believed that they met each other in the prestigious school.
Who is Rory Farquharson?
He is a member of a wealthy English family who attended the Rugby School, a private institution known as one of the most prominent in England where the annual tuition is as high as $47,000.
From 2015 to 2016, Rory was selected as the "Head of School," a position that is often chosen by the principal of the institution and aims to provide a link between teachers and students.
Only the student with the most outstanding academic and social skills throughout the academic year is given the position, which might suggest that Rory is a very talented man.
Apart from that, Rory has shown interest in rugby and golf. He doesn't consider the former a hobby as he even played for Ireland's national team during a rugby tournament in January 2017. At the moment, he is studying law, which is also the career that Malia chose.
Neither Barack nor Michelle Obama has said anything about their daughter's relationship to Rory.
Please fill in your e-mail so we can share with you our top stories!