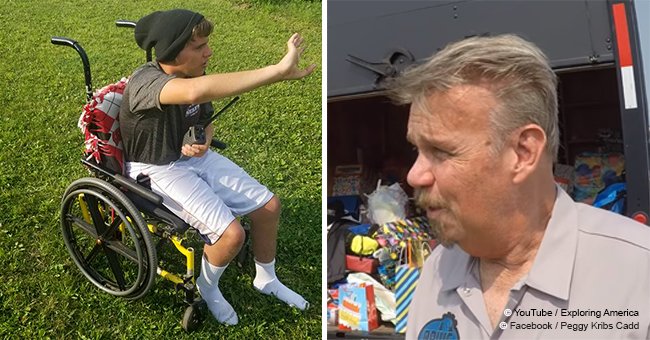 Truckers gather to help disabled teen celebrate his very happy birthday

Truck drivers went the extra mile for Dakota "Bubba" Cadd's 16th birthday.
Bubba enjoys sitting in his yard along Wisconsin Highway 26, hoping truckers will honk their horns for him. On August 18, 2018, those truckers gathered to help him celebrate his birthday.
Bubba has cerebral palsy and Dandy-Walker syndrome, a congenital brain malformation that delays development of motor skills.
The disabled teen's mother, Peggy Cadd, told Transport Topics that because of his conditions, he requires assistance to walk and gets around by wheelchair.
Follow us on our Twitter account @amomama_usa to learn more.
However, the highlight of Bubba's day is when he parks his wheelchair in the yard of his home, waiting for semi-trailer trucks to drive by and blow their horns. He does this almost every day.
A truck driver for CH Hall Trucking in Stillman Valley, Illinois, Mark King, passes Bubba on his route to and from Jefferson.
King didn't have a horn to blow but wanted to find a way to make Bubba feel special. He even left a CH Hall Trucking shirt and toy semi-trailer truck on the lawn for Bubba in July 2018.
Bubba's mother, Peggy, said: "Dakota was out in his normal spot, sitting there, pumping his arm, and I noticed there was a bag on the ground."
"It was a little semi truck… and I realized that somebody had taken the time to stop on the highway and throw this package for my son over the five-foot fence."
Peggy took to social media to share about finding the present, saying whoever left the gift was impressive. Her post has gone viral and eventually led to King.
As it turns out, the truck driver grew up with a sister who has special needs. That was the reason he has a "soft spot" for Bubba.
"I've always had a soft spot for children in wheelchairs, probably because I grew up with a sister... she was handicapped," King explained.
When the other truck drivers heard about Bubba, they also wanted to come out and support him.
"What child ever gets something so special like this?" Peggy said. "To see people embrace my son, giving him hugs and wishing him happy birthday. It's amazing that there are folks like that out there."
At the birthday party, Bubba was named an honorary member of Owner-Operated Independent Drivers Association and of Dairyland Diesel.
Please fill in your e-mail so we can share with you our top stories!