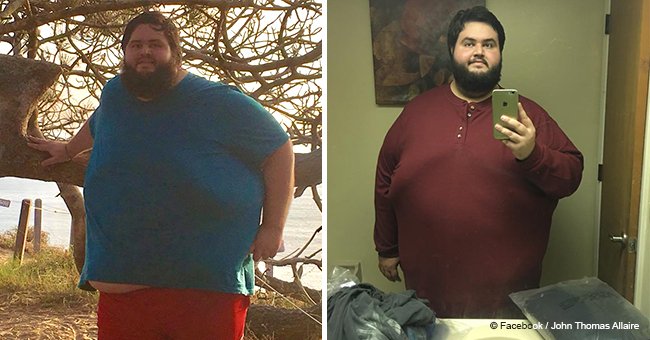 Man lost 317 pounds after getting engaged to his sweetheart and looks unrecognizable

John Allaire's engagement to his childhood sweetheart, Caila, inspired him to lose 317 pounds.
Though Caila loved him just the way he was - all 540 pounds of him - John still decided to lose weight.
"After (committing) my life to another person, I was faced with the reality that I was not only morbidly obese, but overweight to an extreme that (guaranteed) a shortened, difficult life together for me and my future family. I weighed 540 pounds," according to his GoFundMe page.
John began his weight loss journey by juicing, trying to eat better, and walking at least 3-4 days a week. Before he tied the knot with Caila, he was able to lose about 20 pounds.
Follow us on our Twitter account @amomama_usa to learn more.
After John and Caila were married in 2016, the couple moved to San Diego, where Caila serves as a member of the United States Navy.
John then decided to join the weight-loss boot camp, Camp Transformation Center.
"I walked into The Camp scared to death and weighing the same 520 pounds as the day we got married," he wrote. "The Camp is a boot camp program focusing on losing weight, 20 pounds in a (six) week timeframe. I knew that I had much more to lose than that, and it would take many (constant six) week challenges to lose the nearly 300 extra pounds I was still carrying. But after losing 12.6 in just one week- I had (hoped!)"
John was very committed to his new and healthy lifestyle. He even threw away anything remotely unhealthy in their house.
His efforts have paid off as he dropped a whopping 300 pounds in just 15 months.
"It has been a long and grinding process. For the last year and a half, I have put in work every single day towards losing the weight. Even when I chose to take rest days, nothing was done without clear intention to succeed. The results of this laser focus? Losing 297.4 pounds since August 2016. Overall, 317 pounds since my heaviest," he wrote.
John's skin didn't just spring back into place. All 13 pounds of excess skin was surgically removed. He launched a GoFundMe page to help cover the cost of surgery.
Please fill in your e-mail so we can share with you our top stories!