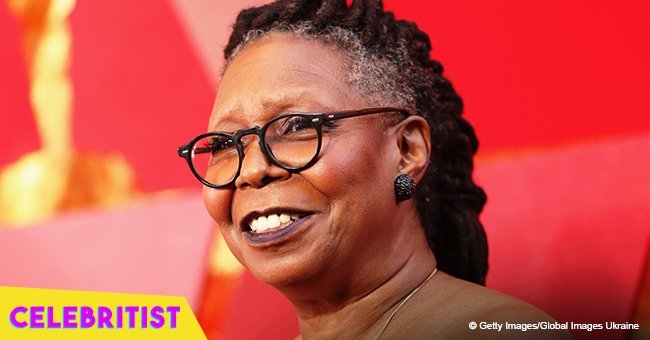 Whoopi Goldberg's granddaughter melts hearts in denim overalls & braids in cute throwback pic

Whoopi Goldberg's granddaughter, Jerzey Kennedy Dean, shared a throwback photo that explains why she's her grandma's regular fashion show companion.
In the picture, little Jerzey wore denim overalls over a black T-shirt. Her footwear was a pair of white Adidas sneakers with black stripes. Jerzey held a fork and bore food remnants on her mouth as she made a funny face at the camera.
Two things are evident from the image: Jerzey's perky personality and her stylish toddler outfit. Interestingly, she hasn't changed much nowadays and is still very much the stylish kid. Jerzey and her famous grandma were pictured in 2014 as they attended various shows at the prestigious New York Fashion Week.
The beauty, who was 19 at the time, accompanied the "Sister Act" star to shows like Diane Von Furstenberg's and Tracy Reese's. Surrounded by models and exquisite designer pieces, Jerzey held her own in a stylish outfit.
The fashion enthusiast chose a white football jersey and a pair of black skeleton-print leggings and looked comfortable in her skin as she posed with one celebrity after another. Vogue editor-at-large Andre Leon Talley and supermodel Naomi Campbell were among the high profile persons she took pictures with.
Whoopi, 62, granted her granddaughter's request to be taken around during the fashion event and the teenager told the New York Post that she was "enjoying it."
"It's my first Fashion Week ever!"
She added.
Jerzey, who is the daughter of Whoopi's only child, Alexandrea, also confessed that she likes her grandmother's style. The "The View" co-host is often under scrutiny for her unusual style choices, but Jerzey seems to think the world of them:
"She has cool clothes. I like the oversized look."
Clearly, Jerzey is a grandma's girl.
Whoopi has two other grandchildren through her daughter, Alex. In 2014, the award-winning actress became a great-grandmother. Holding up a photo of the infant, Charlie Rose, on "The View," Whoopi revealed:
"I have a crazy announcement. I am proud to tell you all and introduce you to the newest addition to my family. This is my great-granddaughter and she came into the world on Saturday…"
Please fill in your e-mail so we can share with you our top stories!