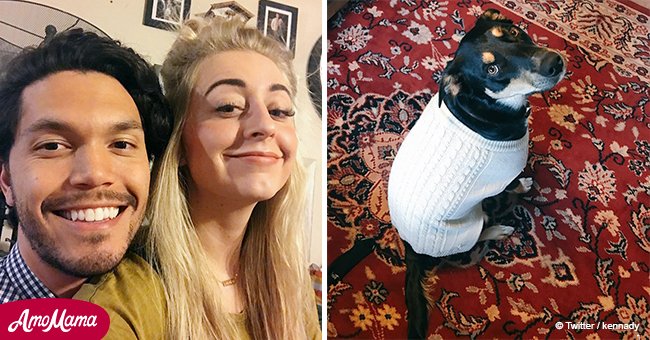 Dog learned hilarious trick so dad would stay home from work
A dog owner came back from work to stay with the sick dog and to take him to the vet after it started coughing one afternoon.
The dog, Sullivan, lives with husband and wife, Alex Salsberry and Kennady Longhurst, in Utah, and the smart dog learned a trick of pretending to be sick so that his human parents could stay at home with him.
Longhurst had tweeted about her dog's fake coughing on her Twitter account on November 3, 2017.
Read more on our Twitter account @amomama_usa.
The dog owner had come home that day during her lunch break to spend time with Sullivan and all of a sudden the dog started making a strange coughing sound that had her worried.
"It really, really freaked me out. He was wagging his tail and running around and just wanted to play but also kept making this horrific noise."
Kennady Longhurst, The Dodo, August 11, 2017.
The wife decided to call her husband to let him know what was going on. As she had to get back to work before her lunch break ended, Salsberry returned home early from his office to stay with Sully and to look after him.
When the smart dog saw both his owners at home, his coughing fit magically stopped and the couple did not take him to the vet as they did not notice any further issues with their pet.
Sullivan began coughing the next morning again when the couple was preparing to head out for their respective jobs.
The anxious owners thought it would be best if one of them stayed back home and took the sick dog to the vet.
Salsberry then took him to the vet, and after the tests, Sullivan was told that he was healthy and the coughing was fake!
The couple consulted a few other vets to confirm, and almost all the other doctors gave the same diagnosis that Sully was okay.
"Almost all of them said he could be acting sick in the mornings or when we leave him because he knows if he acts different or sick we pay more attention to him and stay with him," Kennady said.
It turned out that such behavior from dogs is not unusual, especially when they want attention and from their humans, The Dodo reported.
Please fill in your e-mail so we can share with you our top stories!