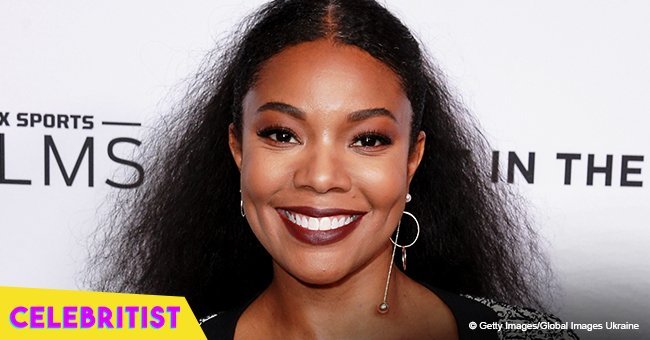 Gabrielle Union is like a little girl as she smiles while hugging rarely-seen dad in touching pic
Gabrielle Union is a prolific actress, style icon, ageless beauty, and successful author. But the 45-year-old is also a blushing daddy's girl. She shared a photo with her dad who is hardly ever in the public eye.
Union wore a red-and-white Adidas jersey and a matching hat as she wrapped both hands around her father's neck. The "Being Mary Jane" star was visibly excited as she fixed her gaze on the older man. Her father looked quite happy too, and he was matching with his baby girl so we can say the love is mutual.
"A girl and her dad. This is the dream," Union captioned the post.
The close bond evident between father and daughter is a confirmation of Union's remarks earlier this year when she spoke about her family unit. Union and her mother, Theresa, sat together for VH1's "Dear Mama" special in May and talked about the "extended village" in which the actress was raised.
Union recalled growing up in a close-knit family:
"We embody the whole 'it takes a village' mentality so there was no such thing per se as 'foster care'. …They're just family, and family can be people who are blood related to you, who married in, who just live down the street. I grew up with that concept of 'family is what you make it' and also, [that] it's very far-reaching."
She pointed out that her childhood prepared her for the role of stepmom to her husband's three sons:
"Being a stepparent, I just try to remember there's a space and a place for everyone, but also to respect the fact that they do have parents, and to find your way and to find your space in an unobtrusive, organic way. I found that way, but that comes from the family that I come from and the way that we were raised."
The "Think Like a Man" actress makes sure to play an active role in the life of her stepsons. Recently, despite being busy on tour with her husband, NBA player, Dwayne Wade, Union found time to give the boys a crash course on the concept of feminine beauty.
She asked to see the Instagram pages of the hottest girls in their schools and realized they all had a type: "light skin, curly hair, tiny waist, butt, boobs — it was the same girl over and over again," Union observed.
After the boys were unable to come up with pictures of any dark-skinned girl they considered beautiful, the "We're Going To Need More Wine" author showed them pictures of Ryan Destiny. She also made them realize that dark-skinned girls don't have to be famous before they are recognized for their beauty.
Watch Union's interview with her mom below.
Please fill in your e-mail so we can share with you our top stories!