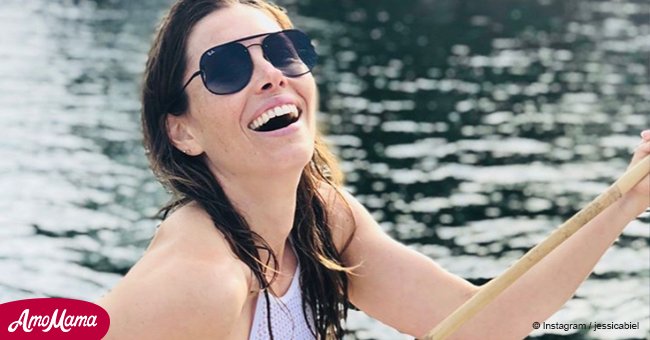 Jessica Biel posts photos from Europe with Justin Timberlake and son Silas
The Hollywood couple has been away from home this summer entertaining the crowds of Europe, and have decided to enjoy as much down time together on the historical continent as possible.
Justin Timberlake has just finished the European leg of his "Man of the Woods" tour, and took his wife, actress Jessica Biel, and their son, Silas wife to enjoy the beautiful sights on offer along the way.
Among the stops on the way, the little family visited London, Paris, Amsterdam, and Copehagen, sharing plenty of photos of their adventures to their respective Instagram accounts.
Aside from the many photos of world famous landmarks, they also shared enviable photos of their pizzas in Italy, photos of themselves playing soccer on a beach, and even a shot of them attending Wimbledon.
Biel shared a series of photos of some of their destinations, making sure to include her son, even though she hid his face from the camera.
Among the shots, Biel could be seen standing on the back of a boat, showing off her view of the water between her knees as she caught the sun's rays, and even rowing. In one photo, Silas carried a large net, presumably ready to catch some dinner for mom.
Biel shared another photo of all three of them, walking along a peaceful beach in an absolutely picturesque setting, with fluffy white clouds floating over them in the azure sky as the waves crashed on the beach in front of them.
"Do we look European? Because we sure feel European! Summer, please never end... thank you #MOTWtour for such an incredible adventure," she captioned the lovely image.
Biel had on a loose-fitting long-sleeve white shirt and a pair of shorts. Timberlake wore a light blue shirt, a white baseball cap, and a pair of knee-length khaki shorts. Little Silas, walking between them, wore a dark green hoodie and khaki pants.
Please fill in your e-mail so we can share with you our top stories!