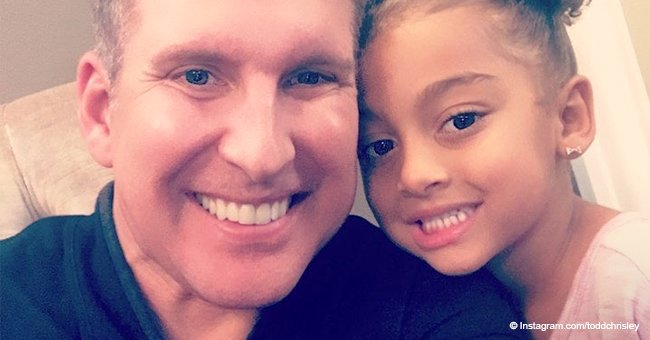 Todd Chrisley shares photo of biracial granddaughter dining with her 'baby Lucy'

Todd Chrisley is a doting grandfather. Just take a look at his latest post where he obliges her to have breakfast with her "baby Lucy."
He previously opened up about his granddaughter being a victim of online bullying. And now Todd Chrisley is making sure she stays happy by indulging her with her obsession over her "baby Lucy."
Since "Chrisley Knows Best" returned for its sixth season in May, fans have delighted in the reemergence of Todd's granddaughter, Chloe, who disappeared after the show's first season due to a custody battle concerning her.
Chloe is the daughter of Todd's estranged son Kyle Chrisley who lost custody of his five-year-old due to his issues with substance abuse. As such, Todd and his wife Julie gained custody of Chloe and has been raising her ever since.
In May, Todd opened up about Chloe facing online bullying because she's biracial. He told People that there were "negative things that were said about her on social media." Todd acknowledged that this has changed the way he viewed his life and his responsibility to Chloe.
"We made a conscious decision that she is our child, she is our family member, and we're not going to be a part of anything that's going to cause her to feel less than."
He also admitted to trying to patch things up with Kyle so that he could be more involved in Chloe's life.
"He's not in the spotlight, but Chloe is with us, and my hopes are that as time progresses that she will know who her daddy is and that their relationship will change at some point."
In the meantime, Todd showers Chloe with as much attention as he can, just like he did recently as evidenced by a photo he shared. He revealed through his caption that the little girl has been obsessing with her doll named Lucy who she treats like her baby.
"So, for those of you who may not know, Lucy, is Chloe's baby that goes everywhere with her," Todd began as he posted a photo of Chloe in the breakfast table tending to her "baby." Todd explains what happens then,
"this morning Lucy is having breakfast with us and Chloe has ordered Lucy silver dollar pancakes with fruit ( papa, Lucy is just gonna eat with me this morning because she not really that hungry"
Chloe appeared engrossed in a conversation with Lucy which her grandfather found amusing. A few weeks ago, he also delighted in a video of his precious granddaughter spending time with his daughter Savannah's boyfriend in the swimming pool. The video he posted revealed Chloe being entertained by Nic Kerdiles, a professional hockey player who's been dating Savannah since January. Savannah herself confirmed she was in a relationship with Nic when she wished him a happy birthday that month on Instagram. She thanked him for putting a smile on her face and acknowledged they were in a great place. She also said it was the first time she'd been "in a relationship to where it's truly 50/50."
Please fill in your e-mail so we can share with you our top stories!