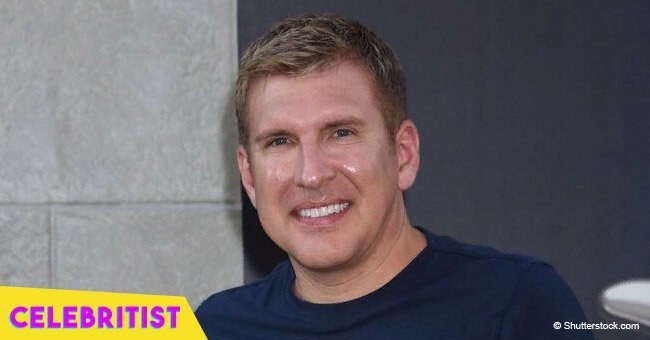 Todd Chrisley shares video of biracial granddaughter having fun in pool with her aunt's boyfriend
Todd Chrisley – famous reality star and real estate tycoon – shared an adorable video of his biracial granddaughter, Chloe Chrisley, while she had fun on the pool with her aunt's boyfriend.
In the cute Instagram video, Chloe was held by Nic Kerdiles, Savannah Chrisley's boyfriend. Todd, being a proud grandfather, was filming the entire thing.
Kerdiles, who is a professional hockey player, played with the six-year-old tot in the pool by tossing her in the air and catching her afterward.
Chloe can be heard giggling as Kerdiles also laughed with her while lifting her out of the pool towards Todd.
While some fans gushed over how adorable little Chloe was, there were others who posted comments about race and attacked the real estate mogul.
One user, @tyrone908z wrote, "Black women worship white men because they want mixed children. I wasn't surprised when I found out that she has a black treacherous mother."
Despite the criticism, Todd has always expressed how the entire family loves and adores Chloe.
Chloe's birth became controversial as she was a product of an illicit affair between Todd's older son, Kyle, and a married woman.
When Chloe was just six months old, the Chrisleys gained custody of her. At the time, Kyle was struggling with addiction and was deemed unfit to take care of his daughter.
The messy controversy led to Kyle – who is Todd's son from a previous marriage - exiting the family's show, "Chrisley Knows Best."
Following his departure, Kyle spoke with the Daily Mail and claimed that his father was only using Chloe to get higher ratings on the show.
He said, "My dad showed no interest in Chloe at all until the show and until it was pointed out that having a mixed race child and getting her and all that would be good for his demographic. He didn't want to see her before then. He said he wanted nothing to do with her."
As for Todd, he denied the allegations and talked to People about his granddaughter's reappearance on the show, expressing that he would love for Kyle and Chloe to have a better relationship.
During the show's first season, Chloe constantly made appearances as a much younger child but was soon removed from the show as the conflict between Todd and Kyle grew more intense.
Meanwhile, Todd remains constant in showing the public how much he and the rest of the family love Chloe.
He previously posted an adorable photo with the little to as she sat on the bed with her granddad.
Please fill in your e-mail so we can share with you our top stories!