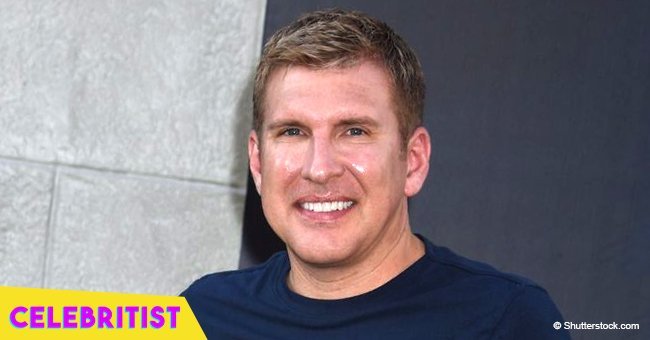 Todd Chrisley melts hearts in pic with biracial granddaughter who looks like him

Todd Chrisley shared an adorable snapshot with granddaughter Chloe as she lays down next to her grandad.
The estate mogul and reality TV star posted the photo to his Instagram late in 2017. Viewers were enthralled to see the beautiful biracial child sharing smiles with her grandfather.
Chrisley's hit show, "Chrisley Knows Best," used to feature the young girl frequently in its first season until things went south with Chrisley's son, Todd.
Follow us on Twitter for more @amomama_usa.
Chloe, who is now five years old, was the result of an unfortunate affair between Chrisley's son Kyle and another woman. This led to Kyle leaving the show.
Soon after, Kyle claimed in an interview with Daily Mail that his father was only using Chloe to get higher ratings for his reality show.
He said:
"My dad showed no interest in Chloe at all until the show and until it was pointed out that having a mixed race child and getting her and all that would be good for his demographic. He didn't want to see her before then. He said he wanted nothing to do with her."
Kyle no longer stays in touch with his family, but his father hopes that in the future Kyle will be willing to work towards reconciliation.
He commented:
"He's not in the spotlight, but Chloe is with us, and my hopes are that as time progresses that she will know who her daddy is and that their relationship will change at some point."
Kyle had also reportedly dealt with substance abuse problems in the past but appears to be drug-free now.
Later on, in 2016, Kyle's new wife claimed that Chloe was forced to remain off the show in 2016 by taking the matter to court. Country Living says Todd dismissed those claims as "absolutely untrue."
Todd revealed other repercussions of the affair in the form of bullying to Chloe. He explained the harsh realities when he spoke to Country Living.
Todd admitted:
"We had never dealt with racism. We have learned that it's a very prevalent situation in this country."
The entire family is involved in the process of making sure Chloe is in a happy home. Todd expressed how,
"We made a conscious decision that she is our child, she is our family member, and we're not going to be a part of anything that's going to cause her to feel less than."
Todd and Julie are doing their best in raising Chloe. Fans were happy to see when the sweet girl came back to the show earlier in May.
The show is on its sixth season and does not look to be slowing down. Chloe's reappearance will no doubt bring even more life to the hilarious cast.
According to an interview Todd did with People, the five-year-old herself is starting to understand things better and "wants to be involved."
Please fill in your e-mail so we can share with you our top stories!