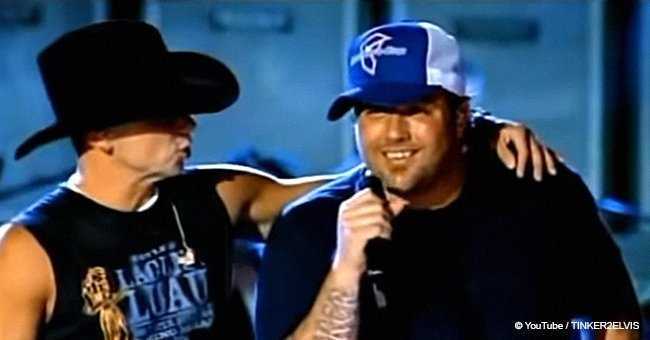 Kenny Chesney joined Uncle Kracker on stage to perform an iconic song together
Uncle Kracker joined the ranks of some few non-country artists, who found themselves welcomed by the community during the special live performance.
In 2012, a video uploaded to YouTube showed Uncle Kracker taking the stage to accompany country star Kenny Chesney for a remarkable performance of his hit number, "Drift Away." The duo got together at one of Chesney's shows for the live duet of the song.
The song was originally recorded by John Henry Kutz for his 1972 album "Reunion." Soul singer Dobie Gray recorded it the following year, and it became the biggest hits of his career.
When Kracker walked out on to the stage giving his great voice to the words of the song, the audience was overjoyed. After letting Kracker take the stage solo for a while, Chesney joined him a while later. Soon enough, the entire audience joined him in singing the song.
Follow us on Twitter to learn more.
The entire audience present at the concert seemed to know the words to the song as they were singing it along to the top of their lungs.
The online audience loved the performance as much as the live audiences did. The YouTube video has so far received over 200,000 views and more than 1,000 likes.
Meanwhile, Country Rebel reported that "Drift Away" was not the only collaboration between the two great artists.
Back in 2004, the two of them also appeared together for a duet in Chesney's classic, "When the Sun Goes Down."
The song is one of the most popular country numbers, which reached the first spot on the Billboard Hot Country Songs chart and hit the fourth spot on the year-end chart.
Chesney is not alone in bringing in surprise guests and celebrities onto the stage during a show to excite the audience. As such surprises are one of the coolest experiences for the live audiences, performed often like to invite unexpected guests.
In 2016, there was another exciting collaboration between country stars, Keith Urban and Carrie Underwood, where Underwood surprised Urban's audience by making a cameo with her baby bump.
Please fill in your e-mail so we can share with you our top stories!