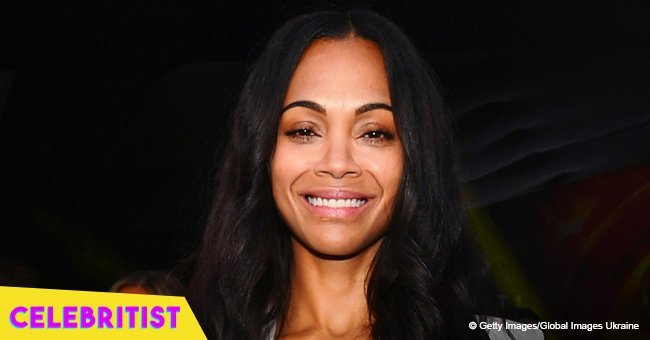 Zoe Saldana's little son melts hearts with his curly hair while sitting on the grass in pic

"Avatar" star, Zoe Saldana shared an adorable photo of her son, Zen, getting comfortable in the grass. The image is just the kind everyone needs to brighten their day.
Zen was pictured sitting in a wide field wearing his two-color Top-and-Bottoms set. He looked oblivious to whoever snapped the shot as he fiddled innocently with a blade of grass. The toddler's curls completed his look, making him the perfect definition of "nature's delight."
With over 91,000 likes, Saldana's fans sure love the picturesque scene and her cute son. Her comment section was also filled with sweet remarks:
"He's a doll????? So cute and beautiful like his mother and father awwwww such a perfect family I love this"- @giorgia.squad
"Such a awesome picture. Your kid is adorable. Look at those curls"- @omiraswrath
"Beautiful picture exactly what every child should be doing. Sitting in the grass"- @jacqui2bat
Saldana, who shares three children with her husband, Marco Perego, revealed last year that Zen was born into their family through unconventional means. The actress told People one month after welcoming her son last year that there was more to the story of his birth than the public knew.
She explained:
"This is something we're being very meticulous about because of the process of how we completed our family. When we're there, when the time comes and our third baby is a little older—and all the forces that helped us have him with us are comfortable—then we will share it, because we know it would be very positive and inspiring to many families that are looking to complete themselves and are not able to do it in the conventional way."
Meanwhile, the 40-year-old mom who raises her kids in a gender-neutral environment has stressed how much she loves being a mother.
"So far it's been the most exciting, most challenging role I think I will ever get to play for the rest of my life,"
Saldana told ET Online in June.
The "Colombiana" actress and her husband have two older sons, three-year-old twins, Cy and Bowie.
Please fill in your e-mail so we can share with you our top stories!