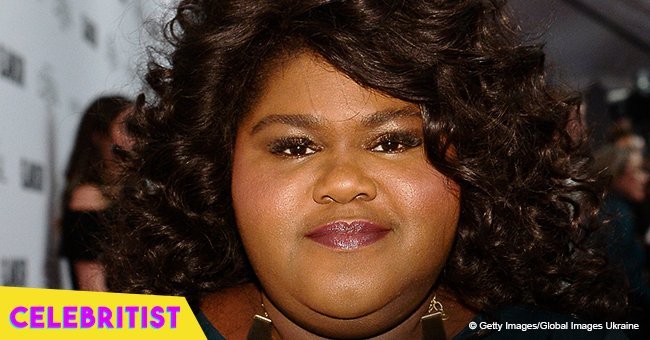 Gabby Sidibe flaunts slimmer figure in purple sleeveless top & shorts in sassy pic
Gabby Sidibe proves she's slim and sassy in recent photos she shared. The actress who's now a body-positive influencer wears a sleeveless top and shorts and accessorizes with a giant bow.
Gabby Sidibe just shared a series of mirror selfies channeling her quirky side. She wears a giant bow on her head to match a purple and black outfit in one photo and sports pink-streaked hair in another.
It was two years ago when Gabby decided to make a drastic change in her life when she underwent weight-loss surgery. She revealed last year that it was because of her Type 2 diabetes that she decided to go ahead with the operation. She had tried to lose weight naturally for more than a decade but because her progress was limited, in May 2016, she went under the knife secretly.
Gabby has since changed her lifestyle having shed off pounds due to the surgery. She altered her eating habits and worked with a nutritionist and dedicated a lot of her time to working out.
But while Gabby enjoys a slimmer figure, she admitted in her memoir, "This is Just My Face: Try Not to Stare" that she did not have surgery "to be beautiful" but rather to be able to things she wouldn't normally be able to when she was oversized.
"I did not get this surgery to be beautiful. I did it so I can walk around comfortably in heels. I want to do a cartwheel. I want not to be in pain every time I walk up a flight of stairs."
Now that Gabby has a slimmer figure, she's all about body positivity. Just this week, she flaunted her body by sharing a series of sassy photos. She played dress up by wearing a giant black bow on her head and a pair of white sunglasses to match her purple sleeveless top and black shorts as she took her selfie from a mirror. In another photo, Gabby experiments with pink hair but she only fashions them in streaks which matched the burst of pink on her Mickey and Minnie Mouse printed T-shirt.
"I'm just here to serve sassy mirror fashions," Gabby wrote in her caption.
This weekend, Gabby will be gracing "TheCurvyCon" to speak about body positivity and how she didn't let her plus-size get in the way of her accomplishments. She'll be joined in the annual event which is now in its fourth year by other body-positive influencers including "Total Divas" stars Brie and Nikki Bella, Nia Jax and some WWE superstars. The event coincides with New York Fashion Week and will feature talks, a panel headed by musician Lizzo and a runway show.
Please fill in your e-mail so we can share with you our top stories!