Young man scales 4 stories in 30 seconds to save 4-year-old child
A Malian migrant in France climbed a four-story building in France to save a four-year-old boy who was dangling from a balcony on the fifth floor.
The video that Guardian News uploaded to YouTube showed the young boy holding on the balcony of the fifth floor of the building with nobody around to supervise him. As soon as people on the streets saw that, they started recording and screaming.  
However, nobody did anything to try to save the body. Thankfully, 22-year-old Mamoudou Gassama knew he had to do something about it and started scaling the building moving from balcony to balcony wearing nothing but blue jeans and a shirt.
When Gassama was about to rescue the child, the father noticed the boy's situation and tried to help.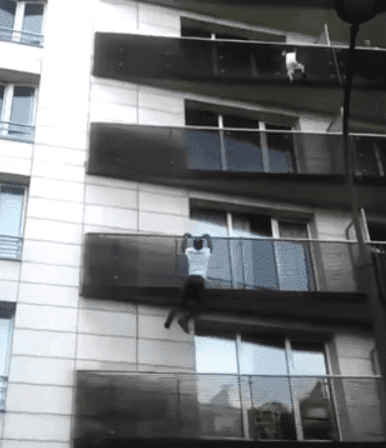 Gassama was next to the boy already, and since the father was taking too long to hold his child up, Gassama pulled and saved him before something bad could have happened.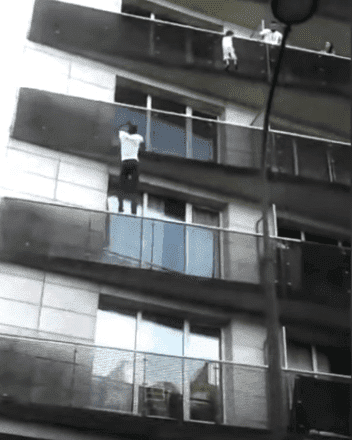 THE FATHER WAS ARRESTED
As PBS reported, the father of the child was arrested for alleged parental neglect. He supposedly left the boy unnoticed while doing some errands and "playing 'Pokémon Go'"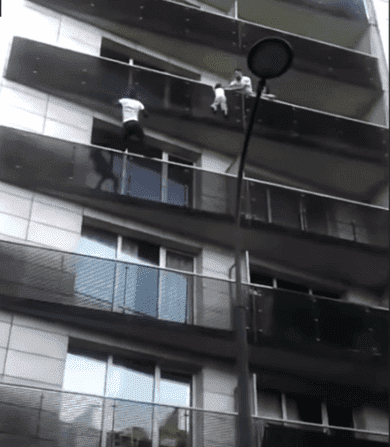 HONORARY CITIZENSHIP
The day after Gassama saved the boy, he received an invitation to the Elysée Palace to talk to President Emmanuel Macron. After talking for a while, Macron offered him the French nationality, as well as a job as a fireman, reported Telegraph.
While speaking to the president, Gassama said that he ran, crossed the street, and started climbing to save him. Once he was in the air, he got the necessary courage to keep going up.
Apart from that, he admitted that God helped him and that, once the boy was safe on the balcony, his legs felt like jelly.
ANOTHER 4-YEAR-OLD CHILD WAS SAVED
Jada Miller, who was only 12 years old when the incident happened, saw one of her younger neighbors, Caylee, being led away from her house by a stranger. Since there were no adults around, Jada ran after the girl and the stranger, grabbed Caylee, and took her back to her home.
The man was trying to kidnap her. It was 27-year-old Benjamin Spasogevich-Lee, and he was arrested for abduction of a child.