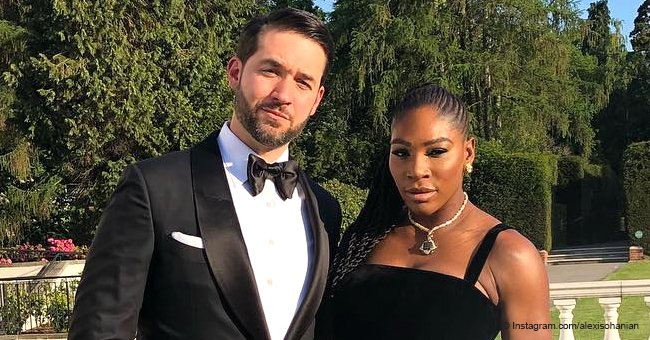 Serena Williams' husband melts hearts with photo of daughter Olympia in cute, floral dress
Alexis Ohanian's newest photo of his adorable daughter, Alexis Olympia, caused a meltdown among fans of the girl's mom, tennis champion Serena Williams.
The Reddit CEO and proud dad shared a gorgeous shot of his baby girl rocking a sleeveless dress with a mixed design of camo and flowers that she combined with sparkly boots. Olympia stood in the middle of a grass field with her little fists raised in the air while bathing under the sunlight.
Ohanian's post was made to commemorate Olympia's first year of life, as he captioned it:
"1 year ago today, you changed our lives forever, @olympiaohanian my adventure princess."
The fact that baby Olympia didn't get to celebrate her first birthday, and won't be celebrating the following ones either, because of Serena's religion, caused a heated debate among the couple's fans. While Alexis is not part of the Jehova's Witness like his wife, he decided to respect the player wishes of not making a party for their baby.
When asked by fans why he didn't even write "Happy Birthday" to Olympia, the businessman answered in a comment on his Instagram account:
"I'm not a Witness, but I considered how made up it all is: the purpose of celebrating a birthday is to celebrate life with the people who love you (and to eat cake). This baby is loved and will get to celebrate life with people who love her *plenty* of times, with plenty of parties (and eat cake — in moderation) throughout her life."
WHY DON'T JEHOVA WITNESSES CELEBRATE BIRTHDAYS?
Serena first shared the decision on a press conference for the U.S Open a few days ago, when she stated without a trace of doubt "Olympia doesn't celebrate birthdays. We're Jehovah's Witnesses, so we don't do that."
According to the religious beliefs, birthdays might have pagan roots, and the whole thing could displease God. The website JW.org states that:
"Although the Bible does not explicitly forbid celebrating birthdays, it does help us to reason on key features of these events and understand God's view of them. Consider four of these aspects and related Bible principles."
Even though Serena and Alexis didn't throw the traditional big, lavish party for their girl, the couple has become an example for hardworking parents, especially Williams, who keeps on balancing her career with motherhood and has been open about all the struggles she has faced since Olympia's birth.
It's been one year since Olympia came to this world, but it's also been one year since Serena started one of the most challenging months of her life.
She almost lost her life and had to undergo two surgeries that left her bedridden for six months. And later, Williams had to face postpartum depression while going back to training and exercising to return to the tennis court in January.
Now more than ever Serena is being praised by women all over the world for her tenacity and courage, and the 23-times Grand Slam champion keeps on working hard to be the best she can be, as a mother and as a tennis star.
Please fill in your e-mail so we can share with you our top stories!