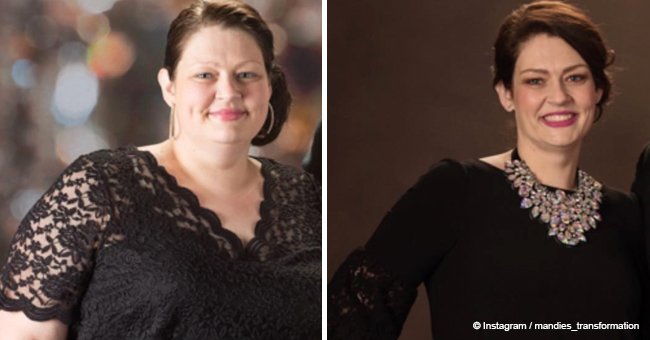 375-Ib woman starts to do 3 simple things every day and loses 150 pounds in 2 years
Amanda "Mandie" Wood who weighed 375 pounds managed to lose 150 pounds in just two years after doing these three simple things.
In December 2017, Wood merged the past and present photo of herself into a single frame. She then posted it to her personal Instagram account.
"One hell of a #transformationtuesday if I do say so myself. Who is that girl on the left? She's staying back in 2015, never to be seen again!" she wrote.
After getting fed up with feeling invisible and tired all the time, Wood decided to start her weight-loss journey in 2015.
Follow us on our Twitter account @amomama_usa to learn more.
"There honestly wasn't any 'aha' moment. I just got tired of feeling invisible all the time. One thing that I don't think a lot of people realize is the larger you are, the more invisible you are to others," she told Pop Sugar.
Wood added that she "was just tired of being tired" because she had no energy from carrying around so much excess weight.
Wood weighed 375 pounds and fit size 28 at that time. "It makes me sad to even say that. I have never actually admitted to anyone how heavy I had been," she said.
Feeling like it was time to change, Wood consulted a nutritionist, who helped her balance her diet by determining more appropriate portion sizes, how to lower her calorie intake, and also giving her tips to begin a healthier diet.
"I follow balanced macros, which for me means that I try to ensure I am getting 35 percent of my calories from carbs, 25 percent of my calories from fat, and 40 percent of my calories from protein," she said.
Wood's second step was to exercise. She ended up getting a personal trainer after a couple of failed attempts at the gym. She admitted that it was a significant investment.
"Now going to the gym is one of my favorite times of the week — I love pushing myself to try new things and heavier weights!" she said.
According to Wood, the key point of her journey was finding balance and setting reasonable goals.
"Keeping it in bite-size chunks makes it not seem as daunting," she explained. "Five pounds is much more manageable than the 200 pounds I started out looking to lose!"
Wood was able to lose 150 pounds in just two years. She reminded everyone who are in their own weight-loss journey to be kind to themselves as no one is perfect.
"You will have days where you want to give up, where you get off track, or where you struggle — that's normal! Just don't give up. Grant yourself grace and get back on track with your next meal or next workout," she said.
Losing weight is never easy. But according to many doctors, an effective way to shed off a few pounds is by eating healthy foods.
Please fill in your e-mail so we can share with you our top stories!