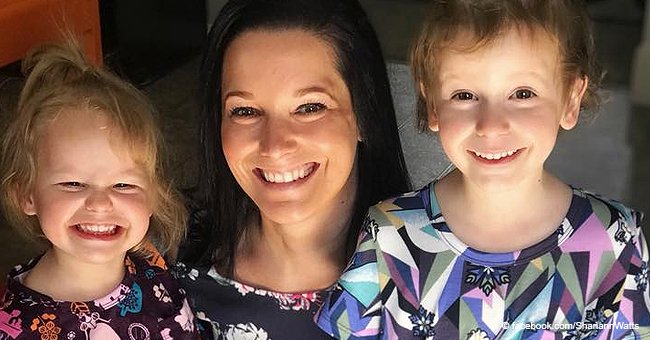 Shan'ann Watts and her 3 children laid to rest during an emotional funeral
The 34-year-old pregnant woman and her two daughters were allegedly murdered by her husband Chris Watts last month in Colorado. A funeral was held for them in North Carolina on September 1.
Shan'ann Watts will be remembered as a "woman of love" and her two young daughters as full of "life and joy", a priest said during the funeral services of the family at Sacred Heart Catholic Church as Western Journal reported.
Shan'ann's relatives were joined by hundreds of mourners who showed up to the Pinehurst, North Carolina place of worship to pay their respects to the late mother-of-two and her daughters Bella, 4, and Celeste, 3.
According to People, several mourners were seen wiping their eyes as the three caskets were carried into the church by pallbearers. Read more on our Twitter account @amomama_usa
The 90-minutes-long service was officiated by Father John Forbes, who didn't make any mention of Shan'ann's husband Christopher Watts, the alleged murderer of his wife, two daughters and unborn child, who was going to be named Nico.
"Shan'ann was a woman of love. She loved God, her family, and her friends. She was a woman of determination. She had dreams to be fulfilled, and she worked towards to those dreams. She wanted to make a difference. She wanted to be an exceptional wife and mother."
-John Forbes, People, September 01, 2018.
Frank Rzucek, Shan'ann's father wrote a statement in remembrance of his late daughter who he lost in such a tragic and unexpected way, and it was read by the priest in the ceremony.
"Daddy loves you. You are a wonderful daughter and a great mother. You are nothing but pure love, always caring for everyone," Rzucek wrote.
"You will always be Daddy's Little Girl. Until we meet again, I love you with all my heart, see you later. Love you, Dad. Butterfly kisses," he added.
Shann'ann and her two daughters went missing in Frederick, about 50 kilometers north of Denver, Colorado. The case shocked public opinion. How could it be that a 15-week pregnant mother and her two young daughters simply disappear?
Shann'ann was last seen at 2 am on August 13, when she returned home after a work trip. Her friend Nickole Utoft, who drove her home, was expecting to see her again later that day, but she never answered her phone.
Alarmed by this, and by the fact that her friend missed a doctor's appointment, Utoft informed the police, who started investigating the case.
In the beginning, Christopher, charged with the murders of his wife and daughters, said to be worried about them and miss them, but after the bodies of the three were found in the oil field where he used to work, he admitted he killed Shann'ann.
Nevertheless, he claimed that it was Shann'ann who killed the children after he told her he wanted to separate from her, and out of his anger for what she allegedly did, he strangled her.
Christopher could face the death penalty if found guilty of the murders after his trial. On August 20, Christopher was charged with three counts of first-degree murder and two additional charges for causing the death of a child younger than 12.
A chilling, heartbreaking video surfaces
Following the news of this shocking triple murder and the revelation of Christopher as the main subject of having committed them, news outlet turned to the family's social media to try to find any useful information on the case.
What struck everybody was that Christopher appeared to be a loving father and husband, and they all seemed to be a happy, normal family.
But given the terrible turn, their lives took on August 13, a video where Bella, the oldest of the two children presumably murdered by her father, calls Christopher her "hero" is now but a sad reminder of how social media can deceit us.
Please fill in your e-mail so we can share with you our top stories!