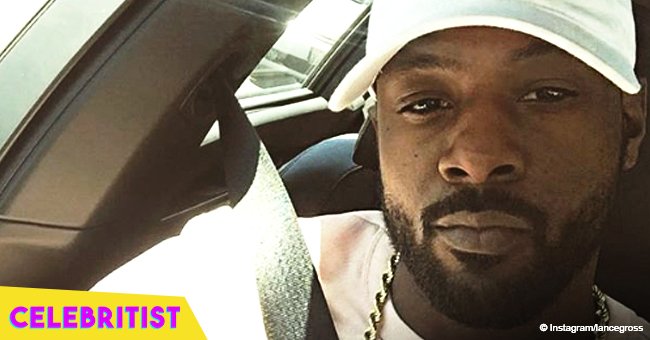 Lance Gross' daughter rocks cute ponytails and outfit on 1st day of school

Lance Gross' daughter is off to school and her father made sure to capture the moment. The adorable shot is a reminder of how infectious the little girls' smile is.
Lance Gross is a proud father who recently shared a photo of his adorable daughter, Berkeley all set for school. The little girl was all smiles as she held on to her lunch bag and fashioned a pompom hairstyle.
Fans can't get enough of Lance and his adorable first child. On several occasions, the father and daughter have melted hearts with their bonding moments. Last month, he shared a photo of the two of them making funny faces to the camera as little Berkeley wakes up with face paint.
They did it again weeks later when father and daughter stuck their tongue out for a fun "Good Morning Surprise" snap.
Months earlier, Lance and Berkeley shared a glimpse of their time at the doctor's office.
And before that, the actor shared a video of Berkeley jamming to Kanye's song "Fade."
Lance and his wife, Rebecca Jefferson welcomed Berkeley in November 2014, just months before they tied the knot in May 2015. The romantic ceremony was held in Los Angeles with baby Berkeley asleep in most of their photos.
Years later and Berkeley is a school girl who's smile is infectious. Her father captured the moment and fans agree she's adorable. Berkeley is wearing a lace trimmed white top matched with a lace-trimmed pair of denim shorts. She wore silver sneakers to match her outfit. She must have patiently sat while her mother did her hair, a cute pair of pompoms on top of her head. She toted a colorful bag as she smiled for her father.
"Class is back in session," Lance wrote signaling the start of the school year for his daughter.
Lance shouldn't be so worried that his daughter will be away most of the day. The "House of Payne" star still has a brand new baby boy to dote on at home. In July, he and his wife welcomed Lennon Lorin just two days after he turned 37. He made the announcement on Instagram sharing his son's name and birthdate and celebrated the fact that their birthdays were two days apart in his caption.
"Celebrated my Born Day on the 8thand today I'm celebrating my son's! God is Good!"
More than a week after Lennon's birth, Lance finally revealed his face in a precious photo of the little boy sleeping soundly. He was snuggly wrapped in a blanket with a matching bonnet on his head. A frame revealing details about him was placed strategically beside him. Lance simply captioned the photo "My little [sunshine emoji]." The photo became the start of succeeding photos flooding Lance's Instagram documenting the little boy's cuteness. Get a dose of that cuteness from this photo below.
Please fill in your e-mail so we can share with you our top stories!