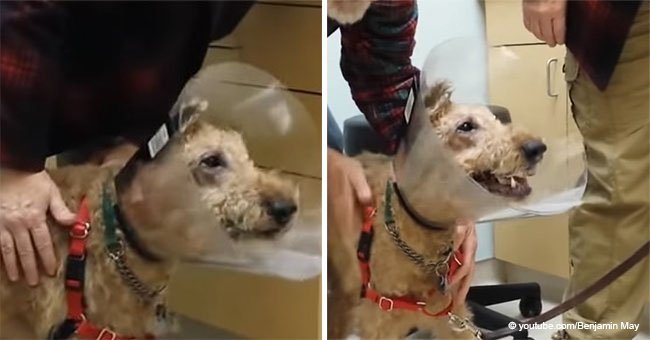 Blind dog's heartwarming reaction when he sees owner for the first time after surgery (video)

Duffy's owners had taken him to different veterinarians looking for a solution to his eye problems, to no avail, but they finally got the help their pet needed, and it made him so happy.
An Irish terrier named Duffy has been through many health problems throughout his life. He was diagnosed with diabetes and this has led to a series of complications that most dogs never have to face, JumbleJoy reported.
The struggle to control his blood sugar levels caused him to go blind, which greatly affected his quality of life. Read more on our Twitter account @amomama_usa
Eventually, the dog owners managed to control his sugar levels with medication and they visited several veterinarians looking for a solution to the animal's eye problems.
But one after the other they told them it was a lost cause, until one day they found the veterinarian they had been waiting for, who offered Duffy some hope of recovering his sight.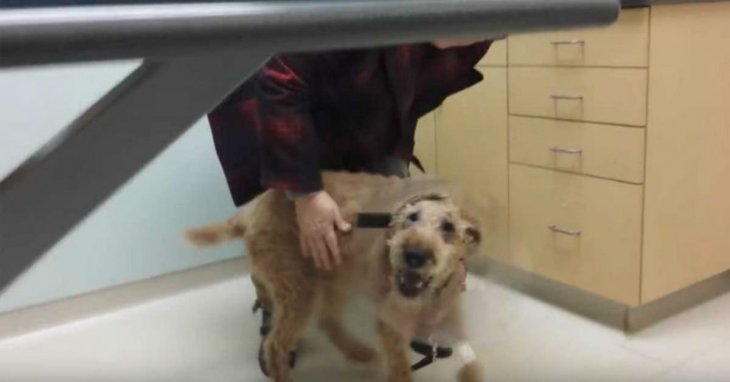 Source:Youtube/Benjamin May
He told the wishful owners that a surgery could solve all of their beloved pet's vision problems. It was going to be expensive, but the family didn't think twice before setting a date for Duffy's procedure.
According to a video shared on YouTube by his owner Benjamin May, from Cogan Station, Pennsylvania, Duffy entered the Veterinary Reference Center to undergo the surgical procedure and everything went very well.
The specialists were able to fix the dog's sight problems and prepared him with a routine eye care that was to preserve his eye's health for years to come.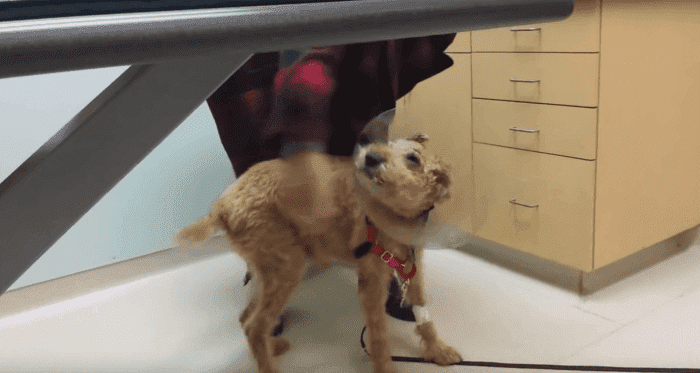 Source: Youtube/Benjamin May
Duffy received a second chance to be able to see the world and his owners for his remaining years, thanks to these amazing professionals.
The family captured a visibly happy Duffy on video as he came out of the surgery room to meet with their loved ones and take a look at them once again with his eyes fixed.
He could not be more excited to see them for the first time in a long time. In the clip you can hear the little dog making high-pitched noises, whimpering with happiness thanks to his loving family.
YouTube users filled the comment section of the video, which since it was uploaded in 2014 has been reproduced more than 15 million times.
For instance, "rackinfrackin" said: "Aw, honey. Duffy has a beautiful and loving family, so we know he will be fine. "
"Charlie the Dog and Baby" wrote: "Aww! It's amazing! A lucky dog!" "These things make me smile. Good boy" added "Bl Ri."
Duffy's story reminds us of Coco, a blind dog whose best friend is a cat named Jasper. Jasper is so attached to Coco that he rarely leaves her side, and he often serves as her guide.
That's why when their owner had to take Coco with her on a work-related trip for a month, Jasper was anxious to reunite with his inseparable friend. The video of the two finally meeting again is just adorable.
Please fill in your e-mail so we can share with you our top stories!