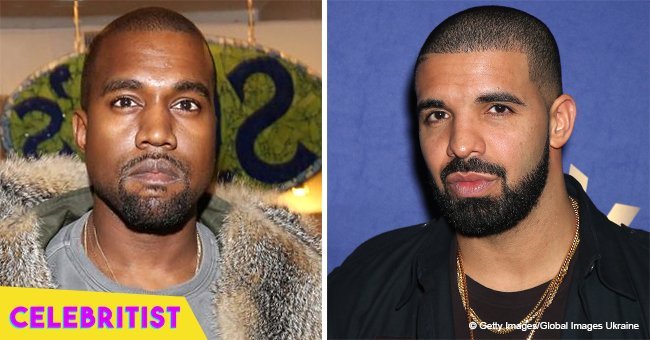 Kanye West publicly apologizes to Drake after months of beef & constant dissing

Kanye West shocked fans when he apologized to Drake after months of beefing and constant dissing between the two of them.
After Drake posted a photo of him on stage with a large scorpion on the set of his tour with Migos, Kanye West took a screenshot of it and posted it on his own Twitter account. Hoping to end the months-long feud between the rappers, he said:
Sending good energy and love to Drake and family and crew. I haven't seen the show in person but the images look incredible online. I understand where the confusion started"
Drake vs. Pusha T and Kanye
Drake and Kanye have been in a bitter rap feud since last Spring, and Good Music President Pusha T was involved in it. Everything went downhill after Drake mentioned the name of Pusha's then-fiance, Virginia Williams, in one of his lyrics. The rapper then decided that all bets were off, and revealed that Drake was making music off the back of his ghostwriter, Quentin Miller. He got so angry, that he even revealed in his latest album that Drake was the father of a baby boy named Adonis in "The Story of Adidon".
Drake ended up confirming that he indeed fathered a son, and he says this in his latest album.
Insiders have been saying that Kanye might have been the source of spilling the beans about Drake's baby to Pusha, who then used it as the ultimate revenge track.
Things got even crazier when Drake released his "Scorpion" album, which took direct blows at Kanye and Pusha T in several songs, including "8 out of 10", "I'm Upset", and "Mob Ties".
However, things started to fuel up again after Kim Kardashian quashed rumors that she and Drake were having an extra-marital affair as fans suspected. Now, this brings us back to Kanye's Twitter apology.
Kanye Makes Amends
After Kanye said that he understands where the confusion is coming from, he made a long Twitter thread about his thoughts. He said that the beef might have started from when he announced that most of his G.O.O.D. Music artists were dropping albums every Friday during the month of June, which impacted Drake's June 29 release date.
Although he claims he did not listen to the diss tracks, he heard quotes from both singles and after his comments on Wiz Khalifa and Amber Rose's son Sebastian a few years ago, he said he was done being in the baby dropping business.
He assured Drake that his apology was not half meant, even going so far as to attend one of his next few shows in order to show his sincerity.
While this could have been said in private, Kanye felt the need to let the public know of this rekindling so that no one ever thinks they are beefing again.
Please fill in your e-mail so we can share with you our top stories!