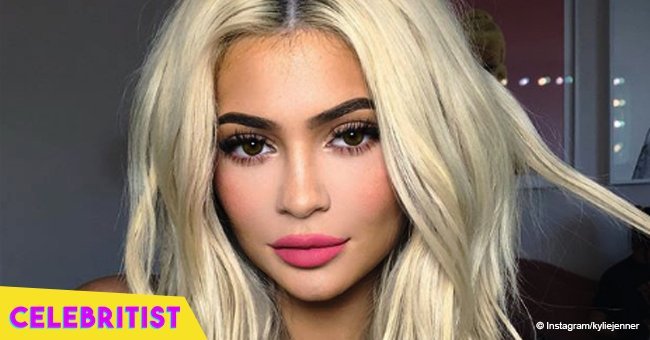 Kylie Jenner snuggles with daughter while getting her makeup done in new photos

Stormi Webster is only seven months old, but with a beauty mogul mom, it's never too early to start learning. The cute daughter of Kylie Jenner stayed close to her mom while the latter got her makeup done.
The heartwarming image showed Jenner and her mini-me in a snuggle as they gazed toward the camera. The 21-year-old donned a white dressing robe and a full face of makeup. Stormi, with her white outfit and black baby curls, looked angelic.
Mother and daughter had Snapchat heart filters above their heads. Jenner had her signature pout in the photo, but it would probably be a little while before Stormi learns the pose.
The "Keeping Up With The Kardashians" star shared a similar video as well. In the recording, Jenner was seated in a chair with Stormi on her lap while a makeup artist worked on her face.
Stormi, apparently not sure what is going on, shifts her gaze from the makeup artist to her mother's face and the filming device. At one point, the video zooms in to reveal the tot clutching her mother's blond hair in a firm grip.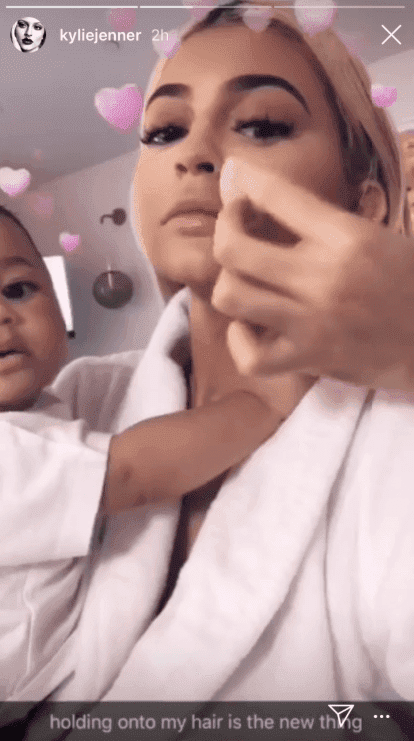 Instagram/KylieJenner
Kylie captioned the video:
"She is not letting go of mom."
Since introducing Stormi to the world, the LipKit boss has been very open with displays of affection toward her child. Her social media pages are filled with photos and videos documenting the infant's milestones.
Despite her busy schedule, Jenner makes time to bond with her daughter who she calls "my most special gift." The pair was recently pictured sunbathing.
"The Life of Kylie" star who welcomed Stormi in February with boyfriend, Travis Scott, has also said she'd like to hand over her $900 million cosmetics company to their child in future, but only "If she's into it."
A lot of people didn't believe Jenner was mature enough to be a mom but the last child of Kris and Caitlyn Jenner continues to prove them wrong. A source told People last month that even though Jenner is proud of all her achievements so far, "she says the best thing to happen to her is Stormi."
Please fill in your e-mail so we can share with you our top stories!